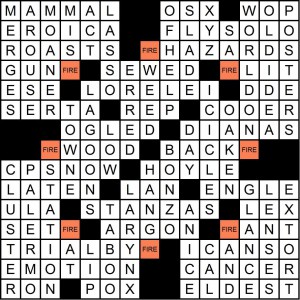 "The meta for this puzzle is a hit from the '60s that describes what can be found in the completed grid." A total of 212 solvers found the "Cash Prize" hidden in this month's puzzle, "Ring of Fire" by Johnny Cash. Eight rebus squares with the word FIRE in them create a circle or "Ring" of FIRE in the grid.
There were 18 submissions of other fire songs, "Fire" by Jimi Hendrix or Arthur Brown, "Play With Fire" by the Stones, "Light My Fire" by the Doors, and "Great Balls of Fire" by Jerry Lee Lewis. While most of these songs were '60s hits, none really describes what can be found in the grid or takes into account the title, and hence I'm not giving credit for any of these answers. Janet T backs me up:
I know I submitted an incorrect answer. But there really is a 60s hit song by Jimi Hendrix called 'Fire'.
And from Ken Lauterbach:
Almost fell into the trap of just going with FIRE, either Hendrix or Crazy World of Arthur Brown, but it seemed too simple and then I remembered to Read The Title.
Most solvers found the puzzle pretty straightforward. Anouk wrote:
Just right for an early confidence boosting meta.
But it wasn't enough of a challenge for others. From Erik Agard (who just finished 14th at the ACPT and runs his own puzzle site):
i knew the answer before i opened the puzzle. i know i'm going to regret saying this later, but you're gonna have to try a little harder than that.
For clues that could have been musical, Francis Heaney mentioned the (somewhat obscure) German electronic music group CLUSTER that once collaborated with crossword puzzle staple Brian ENO, and Norm H. suggested Ringo Starr's "ACT Naturally."
There were a lot of great FIRE songs that didn't make it into the puzzle: WILDFIRE, I'M ON FIRE, SEX ON FIRE, FIREWORK (if you like pop) were all in early drafts but were left on the proverbial crossword room cutting floor.
A couple of notes on the site: The Leaderboard should be working. If you don't see yourself listed and would like to be, be sure you have entered a Screen Name using the form at the bottom right of the page. I'm going to allow comments at the bottom of this page as an experiment. Feel free to add one if you want to share it with the world.
This month's lucky winner of an MMMM coffee mug is Jeff Davidson of Mountain View, CA. The average user rating was 3.80 stars out of 5. On the difficulty side, the average rating was 2.36 out of 5. Six more solvers braved guesses at the mega-meta this month, all incorrect.
Thanks as always for the feedback, and thanks to Matt Gaffney for blogging the puzzle at Crossword Fiend.
The next MMMM will be coming your way Tuesday April 2. Thanks for playing!