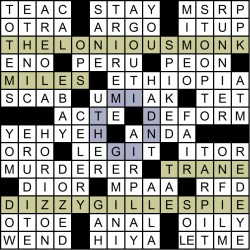 A record total of 301(!) solvers figured out the February MMMM, a classic jazz song. The letters circled in the center of the grid spell out "M I D N I G H T," and suggest the meta answer, the jazz classic 'Round Midnight. The theme entries include THELONIOUS MONK, the composer, DIZZY GILLESPIE, who augmented the tune, as well as MILES (Davis) and TRANE (John Coltrane), who recorded one of the best-known versions on Miles's album "'Round About Midnight." I accepted "Round Midnight" (without the apostrophe), "Around Midnight," and "Round About Midnight" as acceptable (see quote from pannonica below). I didn't accept "Midnight Sun," which is also a jazz classic and a fair description of the "midnight" circle in the middle of the grid. Unfortunately it was not composed by Thelonious Monk, which is specified in one of the clues (Lionel Hampton and Sonny Burke wrote "Midnight Sun").
Not surprisingly, the average user difficulty rating for the puzzle was 1.89 out of 5, the easiest meta since I started the MMMM three years ago. The average user rating was 3.64 out of 5 stars. The randomly chosen winner of an MMMM coffee mug this month is Andrew Flescher from Port Jefferson Station, NY.
A few solvers doing the puzzle on the Stand Alone Crosswords app didn't see the circled letters, which made for a much harder solve. (One of them got it anyway!) If a future puzzle contains circles, I will alert solvers in the email I send out to avoid this happening again. I believe that if you upgrade the app to the latest version you will see circles. Sorry if this happened to you!
Lots of solvers again this month, so I'll share more comments than usual.
Selected comments:

pannonica   it also works as ROUNDABOUT MIDNIGHT, as in traffic flow   (indeed!)
Profken   I finally got a meta! (but if I got it, it must be kinda easy…)
DannyBurk   Yay Jazz!!!
Tommycat   A very good puzzle but if I can get the meta it can't be too tough.
Gwinns   Listening to it right now, for the first time!
sandirhodes   extra star for the jazz theme!
touchdown   I'm waiting for these to get impossible… You're just lulling us in with these, aren't you?   (yup)
Dave S   I got it around noon.   (groan)
Jonesy   another nice, easy start to the year!
Bencoe   No google necessary! love Monk!
DIS   Elegant, but simple. Looking forward to the harder ones.
Dary Merckens   Unbelievable two songs to start 2015 off with!
musicguy595   I'm a huge jazz fan, and was quite upset that 160+ people had solved this before me. And then I realized my iPhone app doesn't show circles in the puzzle. Doh!
Armagh   Glad to see jazz earning a place in the puzzles. Gives hope that Wagnerian opera may be next.   (sorry to disappoint)
Lawrence D   Another song I wasn't familiar with, but it was easy to sleuth out.
patanga   It's nice to have an easy puzzle once in a while…..I was jazzed.
Tyler Hinman   Looking forward to tougher stuff. (He said, foolishly.)   (Tyler's words, not mine)
twofalls   Now I'm going to have to go listen to this one. Thanks!
heartLove   thanks! clever meta. BIG monk fan here. and Trane, Miles, Dizzy… the Classics!
Clues that could have been musical:
Jeffrey Harris   MURDERER:  [Much-used word in the lyrics to "Here Comes the Hotstepper"]
zerocrates   TET:  [Four ___ (English electronic musician)] and ORO:  ["L'estasi dell' ___" (iconic Morricone film composition)]

rachaar   ATM:  [2014 song by Kardashian ex-boyfriend Ray J]
Thanks to Matt Gaffney for blogging the puzzle at Crossword Fiend. The next MMMM will be coming your way Tuesday, March 3. Thanks for playing!