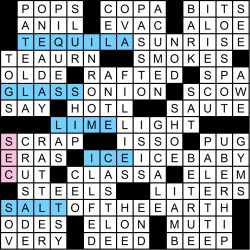 The February MMMM asked solvers to find a famous song, and where you may want to go when you're done. The five theme-entry songs all begin with an ingredient, as shown below:
TEQUILA SUNRISE
GLASS ONION
LIMELIGHT
ICE ICE BABY
SALT OF THE EARTH
If you put the ingredients together and consider the puzzle title, "Just Add Sweetener," there's only one song that fits the bill: Jimmy Buffett's classic MARGARITAVILLE, the meta answer. A total of 296 people found the solution this month, 10 shy of the record set last month. A few solvers sent in "Mexico," which is certainly a famous song and a place to go, but it doesn't make enough sense with the title to be acceptable.
I struggled to find a reasonably well-known song with a margarita sweetener (triple sec, agave nectar, Cointreau) in its title. The closest I got was using two songs: SIMPLE MAN (Lynyrd Skynryd) and the somewhat obscure SYRUP & HONEY (Duffy) to make SIMPLE SYRUP. I didn't think it was worth it. I did, however, sneak in [Triple ___ (one possible sweetener)] as the clue for SEC.
SELECTED USER COMMENTS:
wd9999   I was going to suggest Margarita by the Traveling Wilburys, but I guess that's not a place you can go.   Right!
Steve Jorgensen   The "onion" part sort of threw me, but I guess I need a "glass!"
TeamDelphiRune   Thought at first we had a very obscure cocktail here. Tequila, lime, salt, and an ONION?!? 😉
ConvolutED   I don't drink alcohol; I'm more a fan of Hot Chocolate? (With a meta this easy, Every 1's a Winner!)
Debeep   My first meta solve ever!   Congrats!
kaymook   A tasty follow-up to one bourbon one scotch and one beer!   From August 2014
arctan   well, now i know what i'm having later tonight.
rjk2138   Always enjoy getting good music recs from the puzzles.   Glad you appreciate them! I try to overemphasize songs/artists I like.
Jesse Lansner   I solved this puzzle and I have nothing to show but this brand new tattoo.   Groan.
CLUES THAT COULD HAVE BEEN MUSICAL:
Evan suggests using CeeLo Green's "Scrap Metal" to clue SCRAP.
The Duke of Prunes suggests cluing LAS using a reference to the La's – a band I did not know.
Pickleman mentions that BARK is a Jefferson Airplane album from 1971.
RANDOM TRIVIA:
Ezra B and Tyler Hinman both questioned whether Road Runner says "beep beep" or "meep meep." Turns out Warner Bros. officially lists both as correct!
Solvers found this puzzle very easy (as promised), rating it an average of 1.87 on a difficulty scale of 1 to 5. The average rating was 3.67 stars out of 5. This month's randomly chosen winner of an MMMM coffee mug is Karen Paxton from Burlington, Kentucky. Thanks as always to Matt Gaffney for blogging the puzzle at Crossword Fiend, where you can rate the puzzle and/or leave a comment.
Thanks for playing and see you next month!