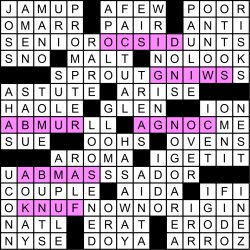 The April MMMM contained the following challenge: Something's not right with six of the entries in this grid. What song that was a hit in both the 1970s and '90s provides instructions necessary to make sense out of them? As shown in the adjacent grid, there are six theme entries that are partially reversed as follows:
SENIOROCSIDUNTS —>SENIOR DISCOUNTS
SPROUTGNIWSS —> SPROUTS WINGS
ABMURLL —> RUM BALL
AGNOCME —> CON GAME
UABMASSSADOR —> US AMBASSADOR
OKNUFNOWNORIGIN —> OF UNKNOWN ORIGIN
The six reversed parts of the themers are DISCO, SWING, RUMBA, CONGA, SAMBA, and FUNK, all different beats. The only song title that works to describe what's going on is Turn the Beat Around, a big disco hit for Vicki Sue Robinson in 1976 and for Gloria Estefan in 1994. For some solvers (Jessie Lasner and Mlessie), the puzzle title ("Pulse Modulation") and instructions were enough to guess the correct answer; for others (especially those born after 1994) it took a bit of googling to find the answer.
Much to my surprise, five solvers cracked the mega-meta this month, and were awarded 28 bonus points each for their efforts. Congrats (in order of their submissions) to LuckyGuest, thanman2, EBud27, LL, and Veep! I wouldn't be surprised if more people join this group this month. As a reminder, those who solve the mega-meta before the next puzzle will get 21 bonus points (5 for getting it early + 2 * 8 puzzles remaining).
Selected Solver Comments:
Spelvin   I think this is a personal record for fewest letters entered before I solved the meta (46 out of 192!). SENIOR OCSI… was enough.
Kaille   Just found your site thanks to solvers on the WSJ Contest blog. So excited to have another meta puzzle to do!   Welcome!
JanglerNPL   Apt that one of the beats is the CONGA.   Come on, shake your body baby, do the conga.
Katiedid   Appropriate that Disco was one of the turned around beats.   Intentional!
rachaar   Thanks for reminding me of the other great 70s song that made a comeback in the 90s – "December 1963 (Oh, What A Night)." Now both these songs will be in my head for days. 🙂
jagoandlitefoot   My first MMMM entry! I've gone back and practiced with the past 3 years or so of puzzles, so hopefully I'll have a chance at success from here on out (despite the fact that I'm only 18 and thus not immediately familiar with many of the songs and artists you reference).   Pretty impressive at 18 – welcome!
ab   Theme words probably should've run vertically since she explicitly says to "turn it upside down."   That's a cool idea.
Gwinns   Looking forward to the performance of this one!   See below!
Clues That Could Have Been Musical:
jagoandlitefoot, Stribbs, and Evan suggest cluing ANTI as [2016 Rihanna album]
Bill Wilkins and Blind Pursuit suggest cluing JAM UP as ["___ and Jelly Tight" (Tommy Roe song)]
ant suggests cluing the themer OF UNKNOWN ORIGIN as ["Fire ___" (classic Blue Öyster Cult album)]
and finally, Evan turned me on to a really cool song, suggesting cluing SULU as ["Star Trek" officer mentioned in the Tori Amos song "In the Springtime of His Voodoo"]
Groaners:
ConvolutED   No defeat this round / Wasn't even rushin' / Meta song's been found / Solved it all; no cussin' / Love to solve it /// Go Pete, you sure are witty / But I know you've been waiting for this little ditty / And when you hear the scratch of my pencil scratchin' / Then you'll know that groaning is the best reaction
Howard B   …love to solve the puzzles!
I definitely challenged myself when I committed to singing every meta answer this year – here's this month's attempt:
A total of 214 solvers puzzled their way to the correct answer this month. The average rating for the puzzle was 4.13 stars out of 5, the highest of the year so far. The average difficulty rating was 2.84 out of 5.This month's randomly chosen winner of an MMMM coffee mug is Kathy Johnescu from Alameda, CA. Thanks to Matt Gaffney for blogging the puzzle at Crossword Fiend, where you can rate the puzzle and/or leave a comment.
Thanks for playing and see you in a month!