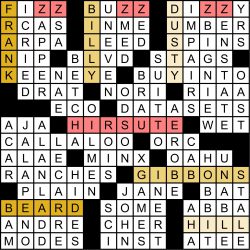 Happy New Year and welcome to all our new subscribers! The January MMMM started off pretty easy. Solvers were challenged to find a band in the Rock and Roll Hall of Fame. 
The top row of the grid features three "ZZ" bigrams. The central entry HIRSUTE is clued as [Adjective for two-thirds of the band members in this month's meta answer]. Six entries have starred clues, and they can be combined to form the following names:
FRANK BEARD
BILLY GIBBONS
DUSTY HILL
The names are the three musicians in a band that was inducted into the Rock and Roll Hall of Fame in 2004 – ZZ Top – this month's meta answer. A record-breaking 467 solvers sent in the correct answer this month.
Meta song:
I'm going to record a cover of a meta-related song again each month this year. This one was particularly fun to learn. As one prescient anonymous solver put it, every girl's crazy 'bout a sharp-dressed meta!
Selected Solver Comments:
Laurabrarian   I've always thought it was funny that the guy without a giant beard was named Beard.
slubduck   So glad to have another year of your great series Pete, we are blessed.   I am blessed to have such a great group of enthusiastic solvers.
Tim P   My first MMMM Puzzle. Fun! I'm in!   Welcome!
pannonica   I saw the asterisked FRANK and BILLY and immediately thought of Ocean(s)!   
mathdanmom   The double Z words at the top are already great, but to have the first names of the band members cross them is really impressive.   Thank you!
Tyler Hinman   I'm betting this will be the alphabetically last answer this year, unless you have a ZZ Ward puzzle in you.   ZZ Ward is awesome. Turns out there is a ZZ Hill too, but ZZ Ward is still last.  
Kitchendiva   What is the *** mega meta answer?   Unlike the past two years, there are no mega-meta clues marked with (***). 
Clues That Could Have Been Musical:
Mike W suggests cluing WET as [Toad the ___ Sprocket].
DIS suggests cluing HILL as [Blueberry or Solsbury, say].
Frank from New York suggests cluing HILL as [Miseducated Lauryn].
DeeJay suggests cluing FRANK as [Amy's first album].   As in Amy Winehouse.
RockGolf and Stribbs suggest cluing FIZZ as [UK band Bucks ___].
Groaners:
Mike Berman   Thanks for starting us out with one that is ZZ enough even for me to figure out.
Abide   Let me the tenth to say it…this puzzle has LEGS!   Close – you were the sixth.
mmurphy   You didn't have to clue it like you did, but you did, and I thank you.
Yvensong   I'm glad I didn't have to Doubleback to figure out this Meta.
TedStack   Gimme all your cluing, all your stacks and partials too.
Small Wave Dave   This one shouldn't be an Eliminator for any solvers.
yosser   Theme was a GIMME (all your lovin); some of the answers were a bit ROUGH, BOY. I had to DOUBLEBACK a couple of times. But great to see the MMMM has LEGS in 2018!
A total of 467 solvers found their way to the correct answer this month. The average rating for the puzzle was 3.93 stars out of 5, and the average difficulty rating was 1.84 (making it the easiest puzzle in MMMM history). This month's randomly chosen winner of an MMMM coffee mug is Susan Hornstein from Highland Park, NJ. Thanks to Matt Gaffney for blogging the puzzle at Crossword Fiend, where you can rate the puzzle (thanks!) and/or leave a comment.