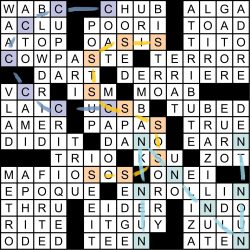 October's MMMM, "Large Print," was advertised as the hardest of the year. And it was! Only 90 people managed to find the answer this month.
The puzzle's instructions challenge solvers to find a "famous band." The grid contains two hints, in the clues for TRIO [This month's meta answer, for one] and SO SORRY ["Apologies!" (or what you might say for not including an occasional additional band member in this puzzle)]. So we're looking for a trio that occasionally has a fourth band member. Now what?
The title, "Large Print," suggests what you have to do. The letter "S" appears in the puzzle nine times, and they're all in the middle, making a large print "S." The same is true for the "C" in the top left composed of seven C's, and the "N" in the bottom right composed of eight N's. Putting them together gives you C,S,N, or Crosby, Stills, & Nash, this month's meta answer. I struggled in vain to include a large "Y" for Neil Young in the grid, but I wanted to give him a shout-out (and solvers a backdoor to the solution).
Meta Song:
Tough to choose which song to cover this month! I went with "Teach Your Children" and got a hand from my buddy John Whoolilurie. My kids stopped by while we were filming. This wasn't our best take, but it's the one that made me smile the most.
Selected Solver Comments:
Kaille   I'm curious as to how many of us had to backsolve this one. Was it just me?   Nope!  Quite a few people mentioned they tried to find a band with an occasional fourth member first.
Gwinns   I am INCREDIBLY impressed by the construction!!   Thank you!
AK   And a single Y, which I assume was intentional?   Yup!
JWaan   Were all the surf clues an intentional red herring? Spent more time than I should have trying to turn Brian Wilson into a C, S, or N!   No – it's just the beginning of the winter surf season and I've been waiting for waves!
BarbaraK   This is awesome! On the WSJ blog, Kas DeCarvalho came up with a five step difficulty scale. Here's where this one fits: "3. The Metas I gut through, *eventually* figure out…and then walk around the rest of the weekend like I just solved The Middle East or learned Sanskrit" I'm walking on air. Now the hard part for you. With so many great songs, how will you pick which one to play.   Thanks – as a solver myself I really like that scale. And I agree – tough choice this month!
Laurabrarian   (Their) logo was designed by Phil Hartman.   I think his is the logo with the interlocking C, S, and N. It was my original intent to use that and span the whole grid with each letter, but it wasn't possible.
susaberry   I …spent too much time ruling out Run DMC, with associated Kurtis Blow, because of the "blowdried" answer, before finding the big CSN.
Clues That Could Have Been Musical:
DIS suggests cluing DART using the Pousette-Dart Band.
Groaners:
Tyler Hinman   Glad I got it while the week is Young.
LuckyGuest   Don't know how you do it…but Carry On!
Abide   Will you sing Meta-kesh Express?
thanman2   I thought maybe this month's meta would be easy. In My Dreams! After completing the grid I didn't see Anything At All in the way of the meta. I had already (it turns out) guessed the answer but didn't want to get Carried Away and send in a blind guess. I was ecstatic when I could finally See The Changes in the normal letter distributions, which is of course Fair Game in xword metas. Well done!
A total of 90 solvers found their way to the correct answer this month. The average rating for the puzzle was 4.13 stars out of 5, and the average difficulty rating was also 4.13 (the first time the two ratings matched). This month's randomly chosen winner of an MMMM coffee mug is Jeff Louie of Providence, RI. Thanks to Matt Gaffney for blogging the puzzle at Crossword Fiend, where you can rate the puzzle (thanks!) and/or leave a comment.
A total of 36 people have solved the mega-meta so far, with two months to go in the 2018 contest.
Thanks for playing and see you next month!