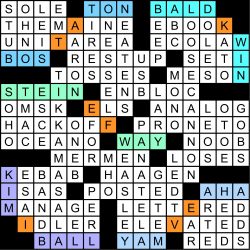 The December MMMM, "Piano Pieces," challenged solvers to find a famous jazz piece. The grid contains no obvious theme entries. Where to begin? The key to solving this meta lies with the title. Hidden in the puzzle are five different piano brands: STEINWAY, YAMAHA, KIMBALL, BALDWIN, and BOSTON. Each piano is broken into two "pieces" that are connected diagonally, as shown in the adjacent grid. Taking the letters that "connect" the pieces spells out T-A-K-E-F-I-V-E, and points to this month's meta answer, the Paul Desmond/Dave Brubeck Quartet classic, Take Five.
Meta Song:
I had a blast learning to play this tune again. Mike Collin made a fun video of this recording where I'm joined by some bandmates (Skip Ward, David Silliman, John Whoolilurie, and Katie Jacoby). Hope you like it!
Selected Solver Comments:
lisepac   All those years I was forced to practice on my mother's Baldwin finally paid off.
Darrell   Hoo boy, I'm glad I caught the Steinway hidden in there or else I'd have been stumped.
Cruciverbalicious   Whoa—brilliant!
heidi   Had me going with cannon and ball for awhile. Thinking of Cannonball Adderley. Nice red herring!   Unintentional…
billkatz   I was expecting "endorfer" after "bos", not "ton". 
smartbohemian   I can name one famous jazz piece so I'm going to guess it.   There were a handful of solvers that admitting to guessing the answer, and they all got full credit.
thanman2   The final grid reminds me of that brief fad back in the 60s where people would try to set world records for destroying pianos as quickly as possible.   Apparently this is no longer a possible world record event after too many people protested to Guinness – whew!
Mike W   Nice literal meaning of the answer!
Alternative Music Clues:
Evan suggests cluing MERMEN as [Sea hybrids featured in the music video for Madonna's "Cherish"].
Groaners:
arctan   that one really came together at the end.
Laurabrarian   a nice solve while taking some Time Out from work this afternoon.
RPardoe   Nice way to end the year. And having done the mega-meta, I will now "this month's mega".
A total of 112 solvers found their way to the correct answer this month. The average rating for the puzzle was 4.40 stars (highest of the year – thank you!), and the average difficulty rating was 3.63. This month's randomly chosen winner of an MMMM coffee mug is Jonathan McCue of Seattle. Thanks to Matt Gaffney for blogging the puzzle at Crossword Fiend, where you can rate the puzzle (thanks!) and/or leave a comment.
A total of 36 people have solved the mega-meta so far. If you crack it before December 25, you can still earn bonus points.
Thanks for playing and see you for the final 2018 puzzle, the mega-meta reveal, coming your way in two weeks!