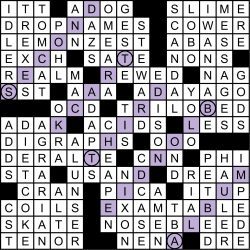 The July MMMM, "Slash and Turn," challenged solvers to find a song from the '70s. The grid contains five circles and no obvious theme entries. The circles contain the letters S,T,T,B,A, coincidentally (and misleadingly) suggesting the four vocal parts: Soprano, Tenor, Alto, Bass. What to do?
The key is to search for diagonal theme entries, going in both directions (slashing and turning, if you will). Doing this gives SECOND TRACK THIRD BLONDIE ALBUM. A little googling (necessary for all but the most die-hard rock fans) finds the album "Parallel Lines," the third track of which is this month's meta answer: One Way or Another.
Kudos to this year's ACPT champ Erik Agard, who sent in the answer to the meta before 12:05. The puzzle was posted at noon, so that means he finished the grid and got the meta in less than five minutes! Second fastest was Steve Williams in 13 minutes.
Meta Song:
I enlisted a little help doing the meta song this month, from my bandmates Skip Ward (bass), David Silliman (drums), and Rebecca "Bex" Lieberman (vocals). We went with a slightly jazzier arrangement. Hope you like it:
Selected Solver Comments:
lisepac   Mind-blowing construction, with every element falling in place: Hints hidden in the grid are tilted like slashes that turn "One Way or Another" (second track) in Parallel Lines (third Blondie album).
Mehitabel   This was the best!
NonnieL   Love it when one of my all-time favorite songs is the answer to the meta!
Beth A   It was great how the answer confirmed the solving method!
rkelly   Perhaps a bit easy with the circles (but likely impossible without).
Blind Pursuit   Nice to see the Ramones in there with Blondie too. ah, the good old days.
Hollie   I can't wait to see your rendition of this song!
Clues That Could Have Been Musical:
DIS suggests cluing EDISON as [Beatles' medicine major].
Evan suggests cluing T-REXES as [Creatures that strangely were absent from the music video to Was (Not Was)'s "Walk the Dinosaur," for short] and GODS as ["___ & Monsters" (Lana Del Rey song)].
ab mentions that "The Green Slime" has a rockin' theme song.
Groaners:
spongeamy   Seems kind of apt that I wore the grooves out on that album. Okay, those are circles but still.
mmurphy   I tried to submit this as close to 11:59 as possible.
kaymook   Nifty! (or maybe even atomic?!).
jagoandlitefoot   One way, or another, I'm gonna solve ya, and get the meta, meta, meta, meta… (Laurabrarian and Small Wave Dave sent in something similar).
A total of 183 solvers found their way to the correct answer this month. The average rating for the puzzle was 4.25 stars out of 5, the highest of the year so far, and the average difficulty rating was 3.09. This month's randomly chosen winner of an MMMM coffee mug is Amy Bemis of Minneapolis, who serendipitously just cracked the mega-meta too. Thanks to Matt Gaffney for blogging the puzzle at Crossword Fiend, where you can rate the puzzle (thanks!) and/or leave a comment.
A total of 26 solvers have cracked the mega-meta so far – congrats!
Thanks for playing and see you next month!