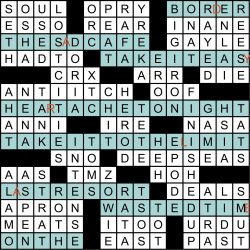 February's MMMM challenged solvers to find a song by the Eagles. The grid contains seven kooky theme entries, each with a parenthetical number in the clue. If you order the entries using these numbers, you get:
THE SD CAFE   [Hangout spot for memory card wonks?]
TAKE IT TO THE I'M IT   ["We're playing tag until you catch me!"?]
HEAT ACHE TONIGHT   [Miami Herald sports section headline after a grueling basketball defeat?]
WASTED TIM   [What almost caused Faith Hill to lose faith?]
THE LST RESORT   [Nickname for a museum containing numerous WWII relics, with "The"? ]
ON THE BORER   [How Elon Musk posed for his latest publicity shot?]
TAKEI TEAS   [Herbal beverage company started by a pundit and former "Star Trek" star?]
Each entry is an Eagles song with one missing letter (as shown in the grid to the left). Taking the letters in order gives A-L-R-E-A-D-Y, and it's not too hard to get from there to the Eagles' classic, and this month's meta answer, Already Gone.
Meta Song:
I think this is my favorite MMMM video yet. Enjoy!
Selected Solver Comments:
Kaymook   For a February (and therefore easier) puzzle, this was a masterpiece. Glenn Frey is smiling somewhere. This was so cool hell just froze over again!   Thanks!
andeux   Woo hoo hoo   Woo hoo hoo!
Dave C   Wow that puzzle was hard! Much harder than the fantastic meta… Wonder what others think.   Quite a few solvers told me the grid was harder than usual this month and last. We'll make things a bit easier next month!
JoshG   Nena wasn't a one-hit wonder in Germany! They had some other great (or at least greatly ear-wormy) songs. My personal favorite is "Irgendwie, Irgendwo, Irgendwann."   I stand corrected!
Alternative Music Clues:
Stribbs points out that Sylvan ESSO is a pretty well-known Brooklyn EDM duo.
jagoandlitefoot suggests cluing NASA as a song on Ariana Grande's new album.
Flipperista suggests cluing TOMS as ["___ Diner" (Suzanne Vega song)] and GAME as ["Wicked ___" (Chris Isaak song)].
fheaney suggests cluing A HAT as ["Does anyone still wear ___?" (question in Sondheim's "The Ladies Who Lunch")].
Groaners:
Maggie W.   I'm at that age when every time I see my friends, they seem to have a New Kid in Tow.
Laurabrarian   The meta that you wrote me made me stop and wonder why.
Thurman8er   I Can't Tell You Why I enjoyed this puzzle so much. In the Long Run, it really was just Wasted Time. I suppose it just gave me a Peaceful Easy Feeling.
Ertchin   This was a little easier than the One of These (k)Nights Tour I was expecting. 
mmurphy   Sure, many of us may be feeling strong now, but hold off on the victory song until you make it through October, at least.
Sam   Got stuck on ANTIITCH for a while. Those lyin' I's really tripped me up.
Andy Flescher   Apt—as I solved this alone in my office eating lunch (all by myself).
A total of 464 solvers found their way to the correct answer this month (four shy of the all-time record of 468). The average rating for the puzzle was 4.25 stars out of 5 (highest ever for an early-season meta), and the average difficulty rating was 2.83. This month's randomly chosen winner of an MMMM coffee mug is Bruce Greig from Bloomfield Hills, MI.. Thanks to Matt Gaffney for blogging the puzzle at Crossword Fiend, where you can rate the puzzle (thanks!) and/or leave a comment.
Thanks for playing and see you in a month!