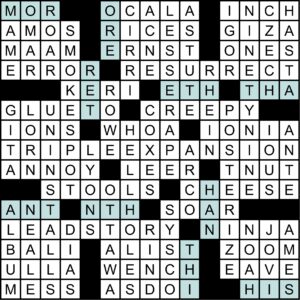 This month's meta challenged solvers to find a British pop hit from the '80s. There are no obvious theme entries, with the exception of the central 15-letter entry TRIPLE EXPANSION. What now?
For the solvers who took the central entry as a hint to look at all the three-letter words in the puzzle, the journey to the meta answer was pretty straightforward. If you were one of them, congrats! If not, don't feel bad – you have a lot of company. Many people expressed surprise that such a simple device was very hard to find.
To solve the meta, one needs to "expand" the three-letter entries in the grid as follows (and in order):
MOR / ORE / RET / ETH / THA / HAN / ANT / NTH / THI / HIS.
From there, it's not too hard to find More Than This, a popular song by Roxy Music, and this month's meta answer.
Meta Song:
The title song of my second album is "More Than This," and I briefly considered doing a reprise of it. But then I decided learning the Roxy Music song would be more fun. I roped in Whools and our former band violinist, Katie Jacoby, to add a little texture. The bourbon helped!
P.S.:   If you'd like to check out my "More Than This," you can find it here.
Selected Solver Comments: (thank you!)
Hollie   This puzzle rivals Bryan Ferry in terms of elegance! 
NonnieL   This is one of my favorite 80s tunes and I would love to hear you play this beautiful song!
Spelvin   Solved the meta from just the relevant across entries… then saw the downs and it blew my mind!
Mlessie   So many red herrings! That "X" right in the center – the multiple triple letter repeats of "NIN", "ION", "LEE", "ALI" – "BETTY" spelled diag from square 60. Heck, I even started spelling "WHO ARE THE…" from square 34. I'm exhausted (in a good way). 🙂
ab   That would've been cool enough if the words weren't in order, but, wow.
Alternative Music Clues:
LaceyK suggests cluing ARCO as ["___ Arena" (CAKE song)].
Stribbs suggests cluing CREEPY as ["Caring Is ___" (Shins song)].
Groaners:
Touchdown   THI HIS ISA SAG AGR GRE REA EAT ATM TME MET ETA
Laurabrarian   It was fun for a while, but there was no way of knowing where this meta would lead.
Evan   Me, pretty much all weekend: "There was no way of knowing. There is nothing." But I got there eventually at the last minute.
A total of 130 solvers found their way to the correct answer this month. The average rating for the puzzle was 4.13 stars out of 5, and the average difficulty rating was 3.62, making it the toughest of the year so far. This month's randomly chosen winner of an MMMM coffee mug is Tom Moosbrugger from Cincinnati. Thanks to Matt Gaffney for blogging the puzzle at Crossword Fiend, where you can rate the puzzle (thanks!) and/or leave a comment.
See you next month!