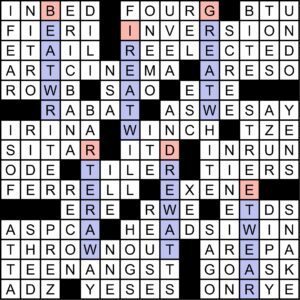 This month's puzzle challenged solvers to find a hit song from the '70s. The grid contains no obvious Across theme entries, but it does have six 10-letter Down answers: BEAT WRITER, BARTER AWAY, FIRE AT WILL (not a reference to WILL FERRELL!), ANDRE WATTS, GREAT WHITE, and STREETWEAR, all of which turn out to be the themers.
Each of these entries contains a five-letter permutation of the letters W, A,T, E, and R. Noticing this caused one solver to submit "Dirty Water," a clever entry I would have considered accepting had that song been from the '70s. But it turns out there's one more step needed to get the meta, and the puzzle calls for a different cryptic anagram indicator – troubled instead of dirty.
Directly above each of the six theme entries, in left-to-right order, are the letters B-R-I-D-G-E, pointing to this month's meta answer, the Simon & Garfunkel 1970 classic, Bridge Over Troubled Water.
Meta Song:
It was a challenge learning how to perform this song – but a lot of fun too.
Selected Solver Comments:       (thanks for the great feedback!)
Zoltar   An appropriate song for turbulent times.
Tom Moose   Great song and great puzzle!
KayW   Fabulous meta this month! Grid was a killer, though.
Damefox   For a second there I was parsing it as "Big Red" and could not figure out what I was missing.
Dave C   I usually award 4 stars – and rarely a 3. THIS is a 5 star meta. What a payoff!
Norm H   Great meta, great song — probably my favorite combo of the two in MMMM history.
Alternative Music Clues:
damefox suggests cluing SNAKE as [DJ ___].
Chris Popp suggests cluing TEEN ANGST as [Cracker song with the subtitle "What the World Needs Now"].
Groaners:
Qmark   At first, things were a bit murky, but thankfully the waters cleared in time.
Ken   I will lay me down for this to get an Orca. Bravo!
Small Wave Dave   I see Art in the grid, but no Paul!
EliSelzer   That was a workout for my brain; have to go lay me down.
TMart   I thought this song was from the 60's, but, like a you-know-what, Google eased my mind.
A total of 186 solvers found their way to the correct answer this month. The average rating for the puzzle was 4.57 stars out of 5, the highest of the year, and the average difficulty rating was 3.48, the second-highest of the year. This month's randomly chosen winner of an MMMM coffee mug is Christopher Ross from Isle au Haut, Maine. Thanks to Matt Gaffney for blogging the puzzle at Crossword Fiend, where you can rate the puzzle (thanks!) and/or leave a comment.
See you next month!