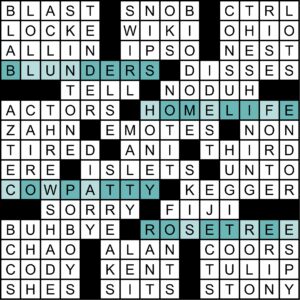 The June MMMM challenged solvers to find a rock band. Four grid entries are clued with an unrelated parenthetical, as shown in the first two columns of the table below.
The puzzle's title ("Triple Switching Hour") provides the key to the first step. Many solvers found a toehold by realizing that if you switch three letters in COW PATTY, you get TOM PETTY. And you can do the same thing to the other three entries, as shown in the table's third column. Now what?
The next step is to concatenate the four triples of switched letters. This gives REE-NAC-TME-NTS, or REENACTMENTS. At this point, many used Google and found the Pylon Reenactment Society, a revival of the band Pylon. Not a great answer, but it tripped up a few solvers. There must be another step. And there is!
Using the same triple-switching mechanism on REENACTMENTS gives REPLACEMENTS, or (The) Replacements, the famous alternative rock band from Minnesota, and this month's meta answer.
Quite a few folks commented that they needed to use Google at least once, if not multiple times, to find the desired transformations. The constraints of the meta mechanism made this likely, and I took pains to make the searching as painless as possible without giving the answer away. Hopefully I succeeded! How'd you do this month?
B

LUN

DERS
Screw-ups

(alternative rock band from OHIO)

B

REE

DERS

H

OM

E

LI

F

E
Domestic routine that's also a John Mayer song

(half of a hip-hop duo from Virginia)

N

O M

A

LI

C

E

C

O

W

P

A

TTY
Something to avoid in a farm field

(famous rocker)

T

O

M

P

E

TTY
RO

S

E T

R

E

E

What "rhododendron" literally means

(vocal R&B trio)

RO

N

ET

T

E

S
Meta Song:
We decided to take on one of the mellower songs in the Replacements catalog, "Skyway," and filmed it on a ropes course. Enjoy!
Mega-Meta and Red Herring:
A huge shout-out to Louis Lana (LL), who cracked the Mega-Meta in April! Four solvers got it last month: jpw713 (Jeremy Wood), Louis D, ASB, and stmv (Tom McCormick). A total of 18 solvers got the Red Herring during the month, which makes 34 for the year so far. Congrats to all!
As a reminder, you can try for the Mega-Meta anytime – the sooner during the year you get it, the more bonus points you earn, but incorrect answers result in a one-point penalty. The Red Herring, however, is like a normal meta – you only get one try. In case it helps, there are no more Red Herring clues coming.
Selected Solver Comments:
Burak    I tried really hard to make The Reenactments a rock band. I might have changed Google's algorithm for good. The double a-ha moment once I figured out the final answer and saw how it makes sense at a meta-meta level was very, very pleasant.   Thanks!
Burghman   Wow, so many clicks on this one – perfectly executed!   Thanks!
arctan   A bit google-y for the main part, but a nice aha moment on doing the same triple switch a second time.
Amanda Hugginkiss   People will complain about having to Google, but to me, this was the perfect puzzle. Took a while to find the hook, then a bit of satisfying detective work, and a beautiful aha moment.
LesY   GREAT band! Can't wait to hear what you decide to cover.   Turns out there are quite a few MMMMers who are also devoted Replacements fans, including bergie, Dannyvee and Andrew Lim. I hope we picked a 'Mats song you all like!
Alternative Music Clues:
Pete M. suggests cluing TELL as ["___ Me Why" (Neil Young song)].
Evan suggests cluing ALAN as [Musician Merrill who co-wrote "I Love Rock 'n Roll"].
Redhead64 suggests cluing BIODOME as [1996 Pauly Shore film with a cameo from Tenacious D].
pbfrommn suggests cluing ELSE as ["Somethin' ___" (Cannonball Adderley album)] and IPSO as [___ Facto (English rock band)].
Groaners:
mpf004   Can't Hardly Wait to hear your choice of cover.
LaceyK   What a triPLE doozy! A few Impediments along the way, but the puzzle packed PLEnty of PLEasure.
Allan Patterson   Instead of the usual cover, I'd like to suggest a Replacement: Cow Patti by Jim Stafford.
TMart   It was those free fallin' cow patties that did it for me.
Laurabrarian   Children by the MMMMillion sing for Alex Chilton when he comes 'round.   "Alex Chilton" is a Replacements song, for the uninitiated…
A total of 270 solvers found their way to the correct answer this month. The average rating for the puzzle was 4.31 stars out of 5, and the average difficulty rating was 3.54, making it the toughest of the year so far. This month's randomly chosen winner of an MMMM coffee mug is Patty Stanley from Denver, CO. Thanks to Matt Gaffney for blogging the puzzle at Crossword Fiend, where you can rate the puzzle (thanks!) and/or leave a comment.
Thanks for playing and see you next month!