8 Dec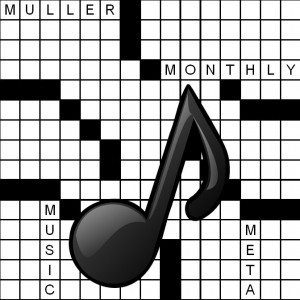 The eleventh contest puzzle has been posted. You can solve it here. The meta for this puzzle is an album from a band that has appeared on "The Simpsons."
Last month's MMMM was voted "Crossword of the Month" by none other than Matt Gaffney. You can read about it here.
When you've solved the meta, enter your solution at the bottom of this page. You can only send in one entry. Those who submit correct answers will be put in a random drawing to win a large MMMM coffee mug. The deadline for sending in your answer is Sunday, December 8 at 11pm Eastern Time. The solution will be posted Tuesday, December 10.
This puzzle is probably the hardest of the year. I will once again post a hint here Sunday at 11pm (after the contest closes), in case you haven't gotten the meta and want a little help. You can also learn the answer by heading over to Crossword Fiend after the deadline.
As a reminder, there is a "mega-meta" hidden in the contest puzzles. Each puzzle has a clue related to the mega-meta, a rock-and-roll hit from the past 40 years. If you think you know the mega-meta, send in your guess using the mega-meta form at the right of the page. Seven solvers have already guessed the mega-meta and have earned bonus points for guessing it early. Bonus points are still available for those that guess the mega-meta before the last puzzle of the year is released on New Year's Eve.
Scoring for the year and rules for the grand prize drawing are explained in the Contest Rules section. I'm please to announce that there will a 2014 MMMM, and once again we'll start out very gently before ramping up the difficulty level.
Special announcement: The 2013 Crossword Construction Contest closes December 20. Details can be found here. I have a few good entries already but am still looking for more! 
Have fun!

This contest is now closed. The solution will be published at noon on Tuesday December 10. For those still trying to solve the meta, here's a hint: Put an asterisk in front of the following across clues: 1, 10, 18, 19, 23, 49, 54, 56, 61, and 63.