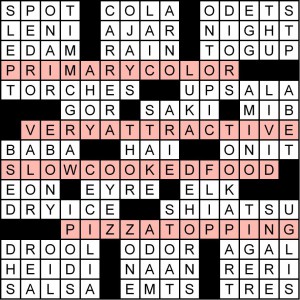 "The meta for this puzzle is a well-known band." Each of this puzzle's four theme entries, PRIMARY COLOR, VERY ATTRACTIVE, SLOW-COOKED FOOD, and PIZZA TOPPING, is clued with an appropriate example followed by the word "say." The title "Say Again?" suggests that solvers find alternate examples to clue the four theme entries. A total of 183 solvers found the right combination, the Red Hot Chili Peppers.
Eight people incorrectly guessed ZZ TOP after seeing it in PIZZA TOPPING. The red herring in PIZZA TOPPING was intentional.  But Vraal found another one:
VERY ATTRACTIVE contains RATT with a letter in between.  I was busy looking for a MARY O… and someone named COOKE for the other two clues…
crosswordese has a personal connection to the puzzle:
I graduated from Upsala College in 1991.
Chris Popp points out that
Upsala was the original home of WFMU, NJ's own freeform radio station.
Bob J was thankful for the relatively easy difficulty level:
Thanks for the puzzle. I needed a confidence boost after failing to get Matt Gaffney's meta this week…
Paul Coulter had similar thoughts:
It was easy, but much appreciated after Matt kicked our butts all weekend!
Some solvers found alternative solutions:
Patrick L:  Or is it Yellow Foxy Gumbo Garlic?  
Todd D:  You mean there's no band called Yellow Pretty Stew Pepperoni?
Use the comment box below if you have your own favorite.
This month's lucky winner of an MMMM coffee mug is Jim Schooler of Laguna Beach, CA. The average user rating was 3.78 stars out of 5. On the difficulty side, the average rating was 2.61 out of 5. Only two solvers braved a guess at the mega-meta this month, both incorrect. Per a suggestion from Jeffrey Harris, the mega-meta guess form will stay on the site the entire month, so you can submit a guess at any time.
Thanks as always for the feedback, and thanks to Matt Gaffney for blogging the puzzle at Crossword Fiend.
The next MMMM will be coming your way Tuesday May 7. Thanks for playing!