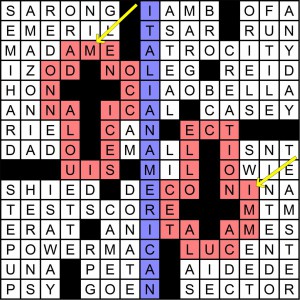 The meta this month was a greatest hits album.  A few clever solvers found it after reading the title and looking at the black squares.  Doug P wrote
I saw the crosses in the grid and guessed the answer!
Others had to work a little harder to find MADONNA LOUISE CICCONE written around the cross in the northwest corner, and the meta answer, (The) IMMACULATE COLLECTION, around the cross in the southeast. The long vertical entry, ITALIAN AMERICAN, also hinted at Madonna.
I received lots of positive comments from people who enjoyed the puzzle (thank you!).  Norm H wrote
My reaction to the meta is apropos: Oh. My. God. Absolutely wonderful.
Abide thought it
should be nominated for puzzle of the year…outstanding!
Getting the artist and the album title around the crosses necessitated a few compromises on fill. Fortunately, solvers forgave me:
Ertchin wrote
I am impressed! Even if you did have to put LICET into the grid.

And Bob J wrote
That was 5-star cool. At first I thought a few of the short entries were a little questionable… and then I saw the meta and immediately quit being so picky.

In the category of comments that made me groan, Golem asked
Get into the dado?

For clues that could have been more musical, Qatsi suggested cluing CAMEO as the '80s band with the hit "Word Up!"   Francis Heaney reminded me that I intended to clue EMALL as [Metallica's album "Kill ___"] and then somehow forgot.
Charles Montpetit, now an official MMMM test-solver, suggested a few music clues that made it into the puzzle, such as the ones for EMERIL [Culinary host of TV appearances by Pat Benatar, Jimmy Buffett, and the Manhattan Transfer] and IZOD [Clothing company whose ads featured music by Harry Nilsson and Weezer]. Thanks Charles! And thanks, as always, to Matt Gaffney for blogging the puzzle at Crossword Fiend.
A total of 122 solvers found the solution this month and they each received two points for their efforts.  The lucky randomly chosen winner of an MMMM coffee mug is John Wilson of Shoreview, MN.  The average user rating was 4.17 stars out of 5, which makes it the highest-rated MMMM puzzle of the year and just below the 4.22 average rating given to Both Sides Now, last year's highest-rated puzzle. On the difficulty side, solvers thought it easier than last month's MMMM, with an average rating was 3.19 of 5. There were two incorrect mega-meta guesses this month.
The final word is from postrander, who writes
Thanks for the puzzle. Now, I will play Madonna all day long just to bug the kids.

The next MMMM will be coming your way Tuesday July 2. Thanks for playing!