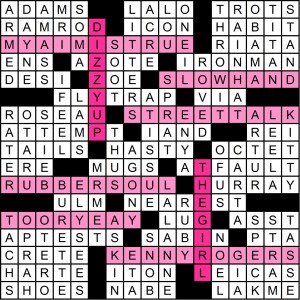 This month's puzzle asked solvers for a rock album from the '70s. The grid contained seven albums referenced by starred clues: MY AIM IS TRUE, SLOWHAND,  STREET TALK, RUBBER SOUL, TOO-RYE-AY, KENNY ROGERS, and DIZZY UP THE GIRL (which was also indicated to be important to the meta). A total of 107 solvers realized the puzzle title  "Single Ladies" meant they should find seven songs about women on the seven albums, giving them Alison, Lay Down Sally, Oh Sherrie, Michelle, Come on Eileen, Lucille, and Iris. Taking the first letter of each woman's name and rearranging them (dizzying up the girl) gives M E L I S S A. This is where it gets interesting. A total of 87 solvers realized that "Melissa" is a song from the 1972 Allman Brothers Band album Eat a Peach, the correct meta answer. But 20 solvers found the 1975 pop album from Melissa Manchester entitled "Melissa." Even though this is not a rock album in my opinion, solvers sending in Melissa are getting full credit this month because Wikipedia broadly refers to it as rock.
While this solution is not nearly as elegant as "Eat a Peach," which, like each of the theme entries, is an album with a song on it about a woman, I decided I couldn't fault solvers for stopping once they found "Melissa." It's particularly frustrating, because Charles Montpetit found the Melissa Manchester album while test-solving and I inserted "rock" in the meta definition to avoid the ambiguity. Sigh.
I'm even giving full credit to those who were pretty sure "Melissa" was wrong, like wobbith who wrote
I hope I'm wrong, because there's no way that that would be considered a "rock album" where I come from.
More like schmaltzy easy-listening Pop. Other than that, the puzzle, the meta, the meta concept,
and the execution were all tour-de-force.
and Pancho, who wrote
The only connection I can make with your 7 "single ladies" from the albums is to anagram their starting letters into MELISSA, the 1975 offering from Ms. Manchester.
But it's not really a 'rock' album, and the DIZZY UP THE GIRL reference has no relevance that I can find. So I guess I'm wrong.
Note to self: Don't always trust Wikipedia.
Pete Rimkus also had a note to self:
"Layla" is NOT on "Slow Hand" and "Veronica" is not on "My Aim is True"…so this one took a while.
Brent Holman didn't get caught in the trap, writing that "Eat a Peach" is
One of my all-time favorite albums!
pannonica (who is also this month's MMMM coffee mug winner) got it right and punned
Dare I?
A number of solvers got stuck by not realizing the clue for the Goo Goo Dolls album also had an asterisk. Peter Gordon wrote
Took a few minutes to realize I needed Iris from Dizzy Up the Girl. 
thepiranha suggested that IRON MAN could have been clued as the Black Sabbath song (or better yet, suggested Francis Heaney, the Cardigans cover of the same).
Overall, people liked the puzzle a lot, giving it 4.07 stars (and a difficulty rating of 3.41 out of 5). Thanks to Matt Gaffney for blogging the puzzle at Crossword Fiend.
Next month's MMMM will come your way Tuesday, August 6, most likely in a less ambiguous fashion. Thanks for playing!