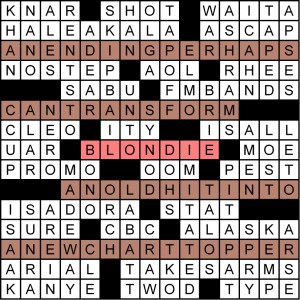 This month's grid had instructions as theme entries: AN ENDING PERHAPS CAN TRANSFORM AN OLD HIT INTO A NEW CHART TOPPER. In addition there was a middle entry, BLONDIE, clued as a dessert bar with a brown sugar base. A total of 97 solvers realized that Blondie could also refer to the '70s new-wave band Blondie. They then thought "literally" and added a "perhaps" to the Blondie hit "Call Me" to get this month's meta answer (a song with a three-word title), Call Me Maybe, the 2012 smash hit from Carly Rae Jepsen.
Badir wrote  I'm a fan of Blondie, and "Call Me" was big when I was in middle school, so this was pretty easy for me.
j wrote Now "Call Me" is stuck in my head. I'm not complaining.
While Jeremiah Johnson felt differently: Argh – it's in my head!
There were a few groaners this month:
Dan Seidman: I knew I'd solve this puzzle one way or another.
Ertchin: Here's my answer, so …
and FrotzNPL: Hey I just solved this / and it was crazy / but here's my answer / credit me, maybe?
On the "clues that could be musical" front, Meta – World Peace suggested Pat Benatar's "Hit Me With Your Best ___" for SHOT and Janie mentioned that AMEN is a hit song from the 1963 movie "Lilies of the Field." Tyler Hinman sent me a link to this brilliant mash-up of this month's answer and Nine Inch Nails' "Head Like a Hole."
This month's winner of an MMMM coffee mug is Peter Abide from Biloxi, MS. Peter is one of 39 solvers with a perfect 7 for 7 record in 2013. As a reminder, solving at least 8 of the 12 metas this year qualifies you for the grand prize drawing. No one guessed at the mega-meta this month, but I gather from Matt Gaffney's write-up at Crossword Fiend that some will soon.
Solvers found this month's meta easier than the last few and assigned it an average difficulty rating of 2.92 (on a scale of 1-5), though many commented that the fill was pretty tough. The average rating for the puzzle was 3.57 out of 5 stars. Next month's MMMM will be coming your way Tuesday September 3. Thanks for playing!