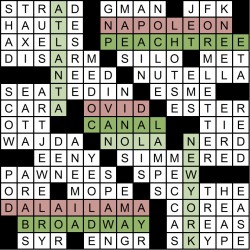 A total of 71 solvers figured out the classic rock-and-roll album that was the answer to this month's MMMMM. These solvers found three famous exiles (NAPOLEON, OVID, and the DALAI LAMA) above three famous main streets (PEACHTREE in ATLANTA, BROADWAY in NEW YORK, and CANAL in NOLA), and came up with the meta answer, Exile on Main St., the famous 1972 Rolling Stones album. As Matt Gaffney notes in his review at Crossword Fiend, the obvious theme entries (the streets) aren't symmetrically located. It's not until you find the exiles that you realize there is symmetry in the puzzle's theme entries.
Clues that could have been musical department:
xhixen and rachaar both suggested cluing DISARM as the Smashing Pumpkins song.
fheaney suggested [___ rock (Morrissey's genre)] for MOPE.
ab suggested ["King of the ___"] for DIVAN. I thought I didn't know the song until I googled this.
Some solver feedback:
Lisa from Queens   The aha moment on this one was so sweet. Love it! The only bad thing about your metas is that when I'm finished with one, I'm depressed I have to wait a month for the next one.  Thanks Lisa!
Pancho   Nice, Pete. Took me two days, but it was worth it.
Redhead64   "Shine a Light" on me, 'cause I successfully completed this meta!
j   I particularly love that the thematic material may not initially seem to be symmetrically placed but ends up being so—my OCD thanks you.
Bob J   Nice that the theme entries all fit perfectly symmetrically – very elegant. Thanks for the puzzle.
DIS   This was very clever! My first thought was "Takin' It to the Streets," but from the title I could see the famous people above the streets had to be involved.
jefe   OMG, that moment when it clicked! Was foundering all week, thinking something with the E Street Band and their album The River, since River Rd is a major road in their home town of Belmar. Eventually googled "main street album." Brilliant!
Gwinns   I did not know Ovid was exiled. A puzzle that entertains AND educates!  Apparently it was attributable to "a poem and a mistake."
Chris Popp   Really enjoyed this one. Probably my favorite of the year so far.
Many users felt the same way – the October MMMM got the second-highest rating of the year, at 4.12 stars out of 5, with a difficulty level of 3.25 on the five-point scale. This month's lucky winner of an MMMM coffee mug is Andrew Flescher from Port Jefferson Station, NY.
Thanks for playing and see you next month!