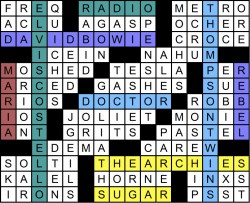 The May MMMM, "Double Vision," asked for a well-known artist that's missing from the grid. Each of the four long interlocking theme entries is an artist with a song whose title doubles a word found in the grid, as follows:
DAVID BOWIE: "Rebel Rebel"
ELVIS COSTELLO: "Radio Radio"
THE ARCHIES: "Sugar, Sugar"
THOMPSON TWINS: "Doctor! Doctor!"
Symmetrically located, but without a pairing artist in the grid, is MARIA. "Maria Maria" is a song recorded by (Carlos) Santana, the artist missing from the grid, and this month's meta answer. A total of 188 people sent in the correct answer. I accepted "Santana," "Carlos Santana," or "Santana and the Product G&B" (collaborators on the song). Nine people sent in incorrect answers. The most popular incorrect answer was Billy Idol, who covered "Mony Mony" (MONIE appeared in the grid).
Selected user comments:
Mike Lewis   Easiest MMMM ever?
Mlessie   Fastest I've ever solved one of these metas!
glasser   You clearly put a lot of effort into your puzzles and this is the product. Gee! And because of that, it's great.   Thank you!
rjk2138   Loved the 16×13 grid — felt like a late-week themeless!
molson   I was all ready to enter Robert Palmer until I looked up the Thompson Twins. Not familiar with their Doctor Doctor.   Even though the hook is "Doctor, Doctor," The Robert Palmer song is called "Bad Case of Loving You."
Groaners:
Jeff G   Hey Pete, that puzzle was so Smoooth!  (Al and Spelvin sent in similar comments.)
Abide   Right on the Mony Mony!
Paradox28   Muller Monthly Music Meta maligns Monday Monday methinks.
Greenstar   Woo! Solving this makes me want to Dance Dance and Talk Talk about it. Gave me a real Rush Rush, might even try to do some more crosswords Tonight Tonight.  If you want to keep going, there's a long list of repeated-word song titles here.
Clues that could have been musical:
fheaney suggests cluing ORION as ["The Arms of ___"] in honor of Prince.
ASB suggests cluing TESLA as ["Signs" singers].
Evan  suggests cluing ALER as [Operatic tenor John].
Solvers found this puzzle pretty easy, rating it an average of 2.55 on a difficulty scale of 1 to 5. The average rating was pretty high, at 4.11 stars out of 5. This month's randomly chosen winner of an MMMM coffee mug is Austin Burns from Orlando, FL. Thanks as always to Matt Gaffney for blogging the puzzle at Crossword Fiend, where you can rate the puzzle and/or leave a comment.
No one has cracked the mega-meta yet. Nine incorrect submissions so far.
Thanks for playing, and see you in June!