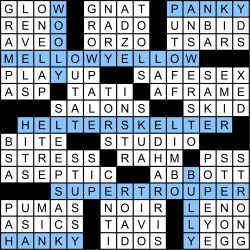 The first MMMM puzzle of 2017 challenged solvers to find "a hit from the '50s that would make a good sixth theme entry." The five theme entries in the puzzle are all well-known songs whose titles consist of pairs of rhyming two-syllable words:
MELLOW YELLOW by Donovan,
HELTER SKELTER by the Beatles,
SUPER TROUPER by Abba,
HANKY PANKY by Tommy James and the Shondells, and
WOOLY BULLY by Sam the Sham and the Pharaohs.
The intended sixth theme entry and meta solution is Little Richard's smash hit Tutti Frutti.
I say "intended" because it turns out there are many more hits from the '50s that fit this pattern. Oops! Originally, I formulated the meta instruction to be "one of Rolling Stone's 500 Greatest Songs of All Time," which (I believe) would have been unambiguous. For some reason I made a last-minute change. For most people this wasn't an issue (and I posted a warning about multiple answers at the website), but a few solvers who didn't check the home page spent extra time trying to sort through the alternatives. Sorry! Metas are supposed to have one correct answer unless otherwise specified, and they will in the future. Here's a complete (?) list of acceptable answers:
"Fancy Nancy" by Skip and Flip
"Furry Murray" by The Tradewinds
"Lovey Dovey" by the Clovers
"Maybe Baby" by Buddy Holly
"Money Honey" by Clyde McPhatter and the Drifters
"Ooby Dooby" by Roy Orbison
"Razzle-Dazzle" by Bill Haley and His Comets
"Ready Teddy" by Little Richard
"Skinny Minnie" by Bill Haley and His Comets
"Stupid Cupid" by Connie Francis
I rejected the following for not fitting the pattern:
"Reet Petite"
"Tall Paul"
"Bony Maronie"
"Splish Splash"
"Louie Louie"
"Hokey Pokey" (because it's "The Hokey Pokey")
New this year: I've challenged myself to learn a version of every meta song. Here's this month's attempt: 
Selected User Comments:
Hollie   Woo bop a loo bop, one meta down!
ConvolutED   goodie goodie, a new year of MMMM!
skathic   I'm terrible at metas, but I got this one right away. Great ego boost for the start of the year!
Steve Blais   Apparently Little Richard released this song about a month after Doc Brown invented time travel.
Gwinns   Didn't every song in the 50's have a two word rhyming name?
aoboboa   EASY PEASY.
Groaners:
Mike Berman   Had a [splish] splash of inspiration and thought good golly I think I have it.
sharkicicles   I really felt like I was in Prime Time when solving it. I never had to Back Track. I felt Sky High when I got the answer. Not to worry- I think month 2 will be Tuff Enough.
TeamDelphiRune   Prime Time for the 2017 MMMM! Thought I was in for Double Trouble, but Hell's Bells, this wasn't Tuff Enough to fool this Shady Lady.
Clues That Could Have Been Musical:
Pickleman suggests cluing RADO as [co-author James of musical "Hair"].
thepiranha suggests cluing SKID as [Rock band ___ Row].
Francis Heaney suggests cluing TATI as ["The Jacques ___" (song by Frank Black & Teenage Fanclub)].
Francis usually manages to find a reasonably obscure but fun song to tie to an MMMM entry. And in case you haven't seen it, Francis has a new fun puzzle/fundraising project designed to help organizations that could use a little bit more help in this climate. You can check it out here.
A total of 302 people sent in a correct solution this month (261 of them sent in "Tutti Frutti"). The randomly chosen winner of an MMMM mug out of these 302 solvers is Al Sanders of Loveland, CO. Thanks to Matt Gaffney for blogging the puzzle (for the sixth year in a row!) at Crossword Fiend, where you can rate the puzzle and/or leave a comment. The average user rating for this puzzle came in at 3.76 out of 5 stars, and the average difficulty rating was 1.89 out of 5.0.
Please note that (***) in 2017 MMMM puzzle clues indicates that they have something to do with the mega-meta. I received one incorrect mega-meta guess this month.
Thanks for playing, and see you next month!