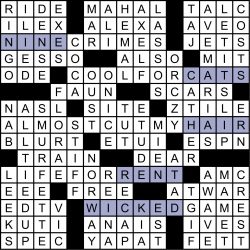 The February MMMM challenged solvers to find a Talking Heads song that was left out of the theme entries because it repeats a word from one of them. The five theme entry songs in the puzzle each contain a one-word Broadway show title, as follows:
NINE CRIMES
COOL FOR CATS
ALMOST CUT MY HAIR
LIFE FOR RENT
WICKED GAME
So we're looking for a Talking Heads song that contains a one-word Broadway show, and duplicates a word in a theme entry. This sent many people to Google looking for Broadway show tunes and/or Talking Heads songs. A total of 288 managed to find their way to the show "Once" and the Talking Heads classic, Once in a Lifetime, this month's meta answer. LIFETIME "repeats" the word LIFE, and no constructor worth their salt would use both LIFE and LIFETIME in a puzzle.
Unfortunately the meta description managed to confuse some solvers, who interpreted the instructions in a narrower sense and wondered if LIFETIME/LIFE counted as a repetition. Quite a few people who got the correct answer said they weren't 100% sure it was correct, which is not desirable – meta answers should give you a big click once you find them. I'm really sorry about that – this was supposed to be a straightforward early-season meta!
Six people submitted the acceptable alternate answer, Thank You for Sending Me an Angel. The musical "Angel" lasted for five perfomances on Broadway and the title includes the word FOR which also appears in COOL FOR CATS and LIFE FOR RENT. Solver abradburn also points out that Sugar on My Tongue should be accepted, because it duplicates the word MY in ALMOST CUT MY HAIR and includes the musical "Sugar." No one sent that one in, but I would accept it as well.
I received a record number of incorrect entries this month (103) – most of them "Wild, Wild Life" or "Life During Wartime." There is a musical called "The Life" about Times Square in its seedier days, but unfortunately the title is two words, not one, so I can't accept either of these.
Alternate Theme Entries:
Quite a few solvers sent in songs with one-word musicals in their titles that could have been theme entries. Here's a sampling, from Monster von Trapp, Matt in the Hat, mpstable, Jim A, DIS, Spelvin, Evan, JMcC, Chris Popp, zerocrates, rachaar, BarbaraK (who sent in the most), fheaney, Beth A, and Gwinns. Apologies in advance if I left out your submission or one of your favorites – there are too many!
Bad COMPANY (Bad Company)
ALADDIN Sane (David Bowie)
Dreamboat ANNIE (Heart) or ANNIE Waits (Ben Folds) or ANNIE Get Your Gun (Squeeze)
Via CHICAGO (Wilco)
No SUGAR Tonight (The Guess Who)
The BARE Necessities ("The Jungle Book" song)
GREASE Monkey (Jeff Beck)
Halley's WAITRESS (Fountains of Wayne)
Walking in MEMPHIS (Marc Cohn) or MEMPHIS in the Meantime (John Hiatt)
The FAME (Lady Gaga)
The Lady in RED (Chris de Burgh)
On a CAROUSEL (The Hollies)
The Night CHICAGO Died (Paper Lace)
My Cherie AMOUR (Stevie Wonder)
No Sleep Till BROOKLYN (Beastie Boys)
The Last CARNIVAL (Bruce Springsteen)
OKLAHOMA U.S.A. (The Kinks)
OLIVER's Army (Elvis Costello)
The Sweetest TABOO (Sade)
I Love a PARADE (from "Manhattan Parade")
Say, Has Anybody Seen My Sweet GYPSY Rose (Tony Orlando and Dawn)
You Are So BEAUTIFUL (Joe Cocker) or BEAUTIFUL Day (U2)
CHESS Piece Face (They Might be Giants)
Just ONCE (Quincy Jones and James Ingram)
There are two other Talking Heads songs that would work except they don't duplicate a theme entry word: The BIG Country and FELA's Riff.
Selected Solver Comments:
Maggie W   Yay, one for the musical theater geeks.

jagoandlitefoot   Any crossword that gives me an excuse to listen to Talking Heads is a good crossword.   Definitely!
EBud27   Trickier than I expected after seeing the theme! "Once" is not a word that stands out. 

Diana   I am very familiar with this song, but in my mind "Lifetime" is spelled as one word for that song and different than "Life", so I spent a lot of time looking for something else.   Others wrote about this as well – sorry!

swgolde   Love the shoutout to Fela, who had a Talking Heads song dedicated to him.
Groaners:
Ed   I'm a big fan of "Once," so much that I saw it twice, which seems wrong in retrospect.

Megan Amram   And you may find yourself behind the wheel of a large Muller-mo.-meta.

Laurabrarian   And you may ask yourself "Am I right? Am I wrong?"   Wrong!

Zevonfan   I'm on a "Road to Nowhere" trying to figure out the meta.

arctan   And you may ask yourself: "How do I work this meta?"

ICDogg and John from Wantagh   Same as it ever was.
Clues That Could Have Been Musical:
Simon Vozick-Levinson suggests cluing NORWAY as [2010 Beach House single]   Thanks for turning me on to this.

Pete Mitchell suggests cluing RIDE as ["Slow ___" (Foghat hit)] and FAUN as ["Prelude to the Afternoon of a ___" (Debussy symphonic poem)].
Pickleman and others suggest cluing IVES as [Singer Burl].
Rachaar suggests cluing FETT as [MC Chris nerdcore song "___'s Vette"   Thanks for making me laugh!
Mega-Meta:
Two solvers defied expectations and cracked the 2018 mega-meta after just seeing two puzzles! Huge congratulations and props to Louis Lana and Eric Prestemon who are both receiving an extra 30 bonus points on the year. They will be hard to catch!
Meta Song:
I was writing with my band in the studio and asked them to learn this month's meta song with me. Here's what we came up with:
A total of 294 solvers found their way to the correct answer this month. The average rating for the puzzle was 3.81 stars out of 5, and the average difficulty rating was 2.90. This month's randomly chosen winner of an MMMM coffee mug is Dan Seidman from Watertown, MA. Thanks to Matt Gaffney for blogging the puzzle at Crossword Fiend, where you can rate the puzzle (thanks!) and/or leave a comment.
Thanks for playing and see you in a month!