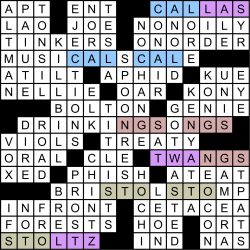 The August MMMM, "Triple Play," challenges solvers to find a famous album. The grid contains three theme entries, each containing a duplicated trigram:
MUSICAL SCALE (CAL),
DRINKING SONGS (NGS), and
BRISTOL STOMP (STO).
The key to solving the meta is to realize that for each trigram pair, a third one appears elsewhere in the grid and completes the set: CALLAS, TWANGS, and STOLTZ.
Taking the remaining letters from these three entries in order spells out LAST WALTZ, and points to this month's meta answer: The Last Waltz, the famous album by the Band. I also accepted "Last Waltz" for full credit.
There were a couple red herrings that gave some solvers trouble. First, the down entry KILL BILL repeats ILL in a similar way to the three theme entries. But ILL doesn't show up anywhere else in the grid, and all the other themers are across. Second, CALLAS and STOLTZ are symmetrically placed, which led some to wonder if the famous album was related somehow to NELLIE, which is located symmetrically to TWANGS. Nope!
Meta Song:
Continuing the tradition, here's my band doing a rendition of "The Weight," probably the most well-known song from "The Last Waltz." Hope you enjoy it!
Selected Solver Comments:
Bob J   This was a jaw-dropper aha moment for me. Best of the year so far.
Myelbow   Fittingly, it's a triple album too!   Yup!
BrainBoggler   I hate to say it, but the "famous album" part doesn't apply to me this time.   I'll accept that…but it is #9 on Rolling Stone's "Readers' Poll: The 10 Best Live Albums of All Time."
BarbaraK   Referring, of course, to that very famous 1967 album by Engelbert Humperdinck 🙂 (Gotta love wikipedia disambiguation.)
LB800   I went to Pennsbury High School in Fairless Hills, PA right next to Bristol, PA. Obviously,the Bristol Stomp was HUGE in my HS.
Chris Popp   This was a very gratifying solve, and joins a long list of my favorite MMMMs. Plus, it may inspire me to go back and listen to The Band.
mpstable   Is the title also a hint to the waltz's 3/4 time signature? Looking forward to seeing what song you chose to cover.   Yes!  And I hope you like our choice.
Clues That Could Have Been Musical:
fheaney points out that if I changed KONY/KENYATTA to ZONY/ZENYATTA I would have two more musical clues, with references to the Police album "Zenyatta Mondatta" and the Wayne Horvitz band's Zony Mash.   Neither Zenyatta nor Zony are in my database, but this would have been great to do.
Redhead64 suggests cluing EYE as ["Queen: The ___" (1998 computer game featuring music by Queen)].
Evan suggests cluing ROAD as ["I Love Rocky ___" (Weird Al parody)].
Groaners:
Laurabrarian   Any day now, the next MMMM shall be released.
Ira   I am submitting the answer as I am about to Levon a jet plane. The pilot is at the Helm.
DIS   I resisted the temptation to give you three stars.   Thank you!
A total of 133 solvers found their way to the correct answer this month. The average rating for the puzzle was 4.25 stars out of 5, tied for the highest of the year, and the average difficulty rating was 3.67, the highest of the year. This month's randomly chosen winner of an MMMM coffee mug hasn't gotten back to me yet, so I can't announce their name. Thanks to Matt Gaffney for blogging the puzzle at Crossword Fiend, where you can rate the puzzle (thanks!) and/or leave a comment.
A total of 27 people have solved the mega-meta so far, with four months to go in the 2018 contest.
Thanks for playing and see you next month!