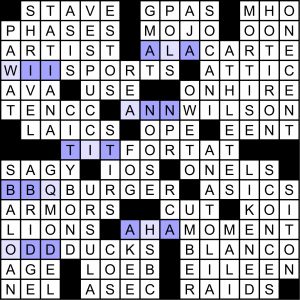 November's MMMM challenged solvers to find a song from the '70s. The puzzle grid is fairly wide open, but there are seven long across entries that turn out to be related to the theme. If this puzzle appeared earlier in the year, these entries would have been starred to make identification easier:
A LA CARTE
WII SPORTS
ANN WILSON
TIT FOR TAT
BBQ BURGER
AHA MOMENT
ODD DUCKS
Each of the seven entries begins with a three-letter block where two of the letters are identical. Those identical letters spell out A-I-N-T-B-A-D. If you interpret things literally, you get Two Out of Three Ain't Bad, the big hit by Meat Loaf, and this month's meta answer. Solvers not familiar with the song found it pretty quickly using google.
Meta Song:
I had fun learning this one…and I recorded it on Halloween, so had to get the kids involved.
Selected Solver Comments:
BobJas   This was hard until it became easy. My favorite type of meta!
TeeCee   New to the whole meta thing, but really digging it…   Welcome!
Matthew   Sometimes you have to sit back and appreciate that one of the most successful singers of all time went by the name Meat Loaf.   That's the music biz!
sepotter   I'm 29 years old and have been listening to Meat Loaf quite a bit recently. I'm looking forward to hearing the cover of this one!
RPardoe   Would have been more interesting to hear you do Paradise by the Dashboard Light?   I would need Phil Rizzuto for that one.
Alternative Music Clues:
fheaney suggests cluing PHASES as ["Cobra and ___ Group Play Voltage in the Milky Night" (Stereolab album)].
jagoandlitefoot suggests cluing VESPUCCI as [Punk band Antarctigo ___].
Groaners:
Abide   Brilliant! Paradise by my iPad light!
Riley   That's also my track record for solves since I discovered this in September.   Hey – two out of three ain't bad!
TMart   Talked all night, but that was getting me nowhere. Then I had some Meatloaf for dinner.
Laura M   I had to "sleep on it"!
docison   I want to solve the meta. I need to solve the meta.

DIS   I thought it was going to be SOS.
Tyrpmom   Sorta like my Mega Meta guesses. Two outta three were bad.
A total of 170 solvers found their way to the correct answer this month. The average rating for the puzzle was 4.43 stars out of 5 (second highest of the year), and the average difficulty rating was 3.19. This month's randomly chosen winner of an MMMM coffee mug is Maggie Wittlin from Lincoln, Nebraska. Thanks to Matt Gaffney for blogging the puzzle at Crossword Fiend, where you can rate the puzzle (thanks!) and/or leave a comment.
Thanks for playing and see you next month!