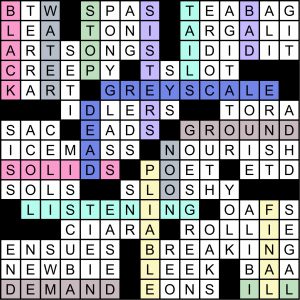 The December MMMM challenged solvers to find a famous band. The clues for 16 entries contained parenthetical numbers, with each of the numbers 1-8 appearing twice. For example, BLACK was clued as [Chessboard side (1)] and SOLIDS was clued as [7/15 of some racks (1)]. The puzzle's title, "How Contrary!," points toward the next step, taking the opposite of each of the words to get a band name, so BLACK SOLIDS → WHITE STRIPES.
Doing this for each of the eight pairs (and figuring out which order to put them in) produces the following:
| | |
| --- | --- |
| BLACK SOLIDS → | WHITE STRIPES |
| GROUND DEMAND → | AIR SUPPLY |
| BAD SISTERS → | RIGHTEOUS BROTHERS |
| NOON WATER → | MIDNIGHT OIL |
| LISTENING TAILS → | TALKING HEADS |
| ILL STOP → | OK GO |
| PLIABLE FINAL → | IRON MAIDEN |
| DEAD GREYSCALE → | LIVING COLOUR |
One more step remains. Taking the first letter of each of the eight band yields W-A-R-M-T-O-I-L, or WARM TOIL. Using the opposites mechanism one final time gives a famous band, and this month's meta answer, Coldplay.
Judging by user comments, the hardest band name to find was IRON MAIDEN, closely followed by OK GO and the RIGHTEOUS BROTHERS. I tried really hard to get WICKED in there instead of BAD, but the grid was just too packed for one more theme entry. Fortunately, many were able to back-solve for the meta even if they didn't get every single band.
Meta Song:
My friend Lora Pavilack, a former Rockette and amazing dancer, was in town this week and I asked her to improvise a dance (in street clothes!) while I played Coldplay's "Us Against the World." Enjoy!
Selected Solver Comments:
Norm H   Fantastic meta — my favorite MMMM puzzle of 2019!   Thanks!
Alex Bourzutschky   The GREYSCALE => COLOUR was a particularly sweet touch, especially given that they're an American band!   Glad people noticed!
pgw   The existence of the Good Brothers kept me from seeing this for far longer than it should have.   They are an exclusively Canadian band with limited success, but their existence made for a harder solve.
dpl11   Did you time this to coincide with their new album on purpose?   Nope.
yosser   My absolute favorite band of all time (note theme).   Noted. 
Amanda Hugginkiss   This is my very favorite of all your puzzles!   Thanks!
Alternative Music Clues:
fheaney  suggests cluing CREEPY as [Like caring, according to the Shins].
Evan suggests cluing ALI as [2001 film whose soundtrack features the song "Fight" by Alicia Keys].
Groaners:
Golem   Warmtoil would have been an awesome band name! Sounds like a Harry Potter villain spoken in some sort of thick accent…
Zoltar   I suppose you will take the heat for using COLD as the antonym of WARM.
PuzlRaptor   Your wordplay on Coldplay was A-OK. Go check your Monkee business on that Iron Maiden though. The Good Brothers was a nice red herring. But with such an obscure Canadian group I eventually flipped it right. Righteous.
Hrududu   Rejected band names: Incipient Rigidity, Original Turgor, First Stiffy
Tee Cee   Hey, puzzle: You look like TROUBLE, and I'm certainly no SCIENTIST. But as long as I DON'T PANIC, and am not YELLOW, I'm pretty sure I can FIX YOU.
Ril0riley   This puzzle did its very best to Break Me.
TMart   That was some serious warm toil! OK GO to bed now!
aoboboa   It looked hopeless 'Til Tuesday, but after a Massive Attack I finally reached the Joy Division.
A total of 177  solvers found their way to the correct answer this month. The average rating for the puzzle was 4.6 stars out of 5 (second highest of the year), and the average difficulty rating was 3.58 (third hardest of the year). This month's randomly chosen winner of an MMMM coffee mug is Dan Katz from North Attleboro, MA. Thanks to Matt Gaffney for blogging the puzzle at Crossword Fiend, where you can rate the puzzle (thanks!) and/or leave a comment.
Thanks for playing and see you on December 24 for the mega-meta reveal!