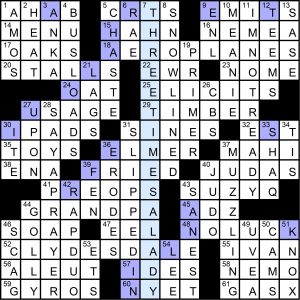 June's MMMM challenges solvers to find a famous singer. The central down entry, THREE TIMES A LADY, clued as [Commodores hit with a multiplicative title], provides the key to solving the meta. The word "multiplicative" connects to the puzzle title, "Multiple Personality," making it likely to be important. And it is!
If you select the grid squares whose numbers are a multiple of three in order, you get A-R-E-T-H-A-L-O-U-I-S-E-F-R-A-N-K-L-I-N, or Aretha Louise Franklin, and that's all she wrote. Aretha Franklin is this month's meta answer.
Quite a few solvers struggled this month, and there was a huge drop-off in the number of correct answers. Not only is the meta mechanism a little challenging to see, but there's an (accidental!) insidious red herring in the puzzle. Three clues use song titles from a different singer. CHASTE is clued as [Like a virgin], LEE is clued as ["Fever" singer Peggy] and TIS is clued as [It's in some holiday songs]. Thanks to Peter Washington for cluing me in to why I received over two dozen Madonna submissions!
The original title for this puzzle was "Math Test," until one of my test solvers, Charles Montpetit, suggested the current one. Thanks Charles!
Meta Song:
Missy Soltero joins me for a slowed-down cover of an Aretha classic. Enjoy!
Selected Solver Comments:
Tom Moose   Wonderfully elegant meta! So simple, yet it took me so long to find!
Beth A   Seems like I haven't done a meta which relies on math for a while. Very refreshing and enjoyable!
TMart   Three times "A" lady. Nicely done on MULTIPLE levels!   Cool, but accidental!
fheaney   One of those "looks impossible until suddenly it's easy" metas.   The best kind 🙂
Jonesy   Hard to believe the 4 10-letter words were irrelevant given the similar letter patterns in a lot of them…!
Evan   Were SAY A PRAYER and I'M NOT READY little winks at "I Say a Little Prayer" and "People Get Ready"?   I was hoping someone would notice 🙂
kaymook   Mind blown to the third power. Cool, cool, cool.
Alternative Music Clues:
jagoandlitefoot suggests cluing ADZ as ["The Age of ___" (Sufjan Stevens album)].
Evan suggests cluing IVAN as [Men Without Hats singer Doroschuk].
Groaners:
Laurabrarian   The only one that could ever reach me was the sweet-solvin' grid of a puzzle man.
Shawn P   Luck be a lady tonight.
Jwaan   R-E-S-P-E-C-T the pangram!
Jesse Lansner   A lot of RESPECT for this puzzle. I didn't THINK I would be ever able to find the meta, which made me feel like I was part of a CHAIN OF FOOLS.
Steve Blais   This one gets my R-E-S-P-E-C-T. (I predict 37 other entrants will also say this.)
A surprisingly low total of 113 solvers found their way to the correct answer this month. The average rating for the puzzle was 4.31 stars out of 5, the highest of the year, and the average difficulty rating was 3.69, also the highest of the year. This month's randomly chosen winner of an MMMM coffee mug is Matthew Twomey of Austin, TX. Thanks to Matt Gaffney for blogging the puzzle at Crossword Fiend, where you can rate the puzzle (thanks!) and/or leave a comment.
Thanks for playing and see you in a month!