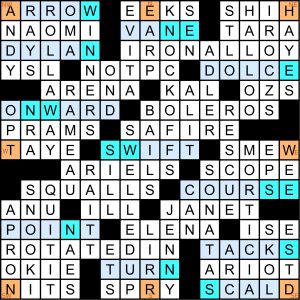 The July MMMM challenged solvers to find a famous rock-and-roll song. The grid doesn't have any obvious theme entries, but there are eleven words clued using the word "direction," as follows:
ARRO

W

Direction

indicator
VA

NE

Direction

indicator
DYLA

N

Subject of the biopic "No

Direction

Home"
DOLC

E

Musical

direction

meaning "sweetly"
O

NW

ARD

Direction

of progress

SW

IFT
Styles (of One

Direction

) sweetheart, once
COUR

SE

Direction

taken
POI

N

T
Indicate a

direction

TACK

S

Changes

direction

TUR

N

Change

direction

S

CALD
Recipe

direction
Now what? Each of of these eleven grid entries has a compass direction inside it, in order: W-NE-N-E-NW-SW-SE-N-S-N-S. If you take the grid square that most corresponds to each direction, in the same order, you get T-H-E-W-A-N-D-E-R-E-R, or The Wanderer, a classic rock-and-roll song, and this month's meta answer. There are actually two fairly famous songs called "The Wanderer." One is the hit by Dion and the Belmonts, and the other is a U2/Johnny Cash collaboration. I like 'em both!
Meta Song:
My son made a cameo while I was learning this song, and I decided that nothing the band could do would make anyone smile more than this…so we're going with it.
Selected Solver Comments:
BarbaraK   Having one START and one Stop in the clues was quite the red herring.   I clued ANU using the humorous license plate "___ START" and that caused some experienced solvers to think that some type of path began at ANU. It was completely unintentional.
bgzimmer   Only after solving did I see DION hiding in plain sight at the beginning and end of DIrectiON.   Cute.
Maggie W.   Lyrics are kind of depressing when you stop to think about them.   Definitely not a song that could make it onto today's radio!
Bri Nebulae   Best puzzle of the year!   Thanks!
KDubs   My favorite of the year so far.   Mine too (so far).
Hector   SW N NW W!   Spelling N-E-A-T using the appropriate squares.
Alternative Music Clues:
Evan  suggests cluing TARA as [Kemp with the 1991 No. 3 hit "Hold You Tight"].
Charles Montpetit suggests cluing RESCUE as  ["Emotional ___" (Stones hit)] or ["___ Me" (Madonna hit)].
Groaners:
Abide   I roamed around, around, around for at least two days on this one.
Darrell   I take issue with the theme, though, as the character in the song doesn't have much of a moral compass.
Deepak B   That was WANDERful!
jus10   I'm the type of guy who likes these nice puzzles. Well done.
A total of 130 solvers found their way to the correct answer this month. The average rating for the puzzle was 4.63 stars out of 5, the highest ever for an MMMM puzzle, and the average difficulty rating was 3.76, also the highest of the year. This month's randomly chosen winner of an MMMM coffee mug is Rich Pardoe of Houston, TX. Thanks to Matt Gaffney for blogging the puzzle at Crossword Fiend, where you can rate the puzzle (thanks!) and/or leave a comment.
Thanks for playing and see you in a month!