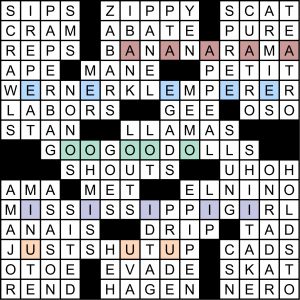 The February MMMM challenged solvers to find a band with more than 10 letters in its name. The puzzle has five obvious theme entries:
BANANARAMA,
WERNER KLEMPERER,
GOO GOO DOLLS,
MISSISSIPPI GIRL, and
JUST SHUT UP.
Each entry contains multiple occurrences of a single vowel, and only that vowel: A, E, I, O, and U. The title, "And Sometimes…," suggests finding a band name with multiple Y's and no other vowels. The classic Southern rock band Lynyrd Skynyrd fits the bill, and is this month's meta answer. As a few solvers pointed out, the number-of-letters stipulation was necessary to eliminate STYX and 'N SYNC.
I was generous this month and accepted a number of misspellings of the band name.

Meta Song:
Sorry to disappoint everyone who shouted out for "Free Bird." This is one of my favorite Skynyrd songs:
Selected Solver Comments:
RPardoe   Surprisingly a bit more difficult than I would have thought to think of a band with only Y in its name.
stynsberg   Needed some help from Google to complete the puzzle, but loved the elegance of the meta.
Jsolomon1999   Had to comb through band lists to come up with that one! Surprisingly hard to think of.   Googling "Band names with no Y" was a good way to find it.
Lacey K   Amazing that you found answers with 5 As, Es, Os, Is. But where are the missing 2 Us?  Fair point. It's just a coincidence that four of the themers have five of each vowel. The meta answer only has four Y's.
Norm H   What, no room for Bikini Kill?
Matthew G.   … at first I was sure this was going to be a rebus, because I always thought the line from "Back in the U.S.S.R." was "All the way the paperback was on my knee." 
haverwench   Thanks for specifying "more than 10 letters" so I didn't waste time with Styx. (A little disappointed that you won't be playing "Come Sail Away," though.)   Great song!
billkatz   …two random songs that I really like in the grid: Relax (used to good effect in "Body Double") and Harper Valley PTA – I think I own that 45.   I'm glad they resonate with you. One of the most fun parts of creating these puzzles is stumbling upon old songs that I like that I can put in the grid.
Alternative Music Clues:
Brilipz and rachaar suggest cluing SPREE as [Multi-instrumental rock band the Polyphonic ___].
redflagday suggests cluing CUATRO as [Number that isn't heard at the start of "Vertigo"].
stribbs suggests cluing ANAIS as [___ Mitchell (creator of Hadestown)].
damefox suggests cluing EGADS as [Frequent exclamation in "The Music Man"].
DIS suggests cluing NONOS as [Marijuana and moonshine in a Ringo song].
Redhead64 suggests cluing MINUTE as ["One ___ Man" (Missy Elliott song)].
Groaners:
Alex Rodgers   With their hit song sweet home ALABAMA, of course.
paka   YummY YummY YummY
Hollie   Love that Sythyrn Ryck!
Rocklouder2424   I'm a Simple Man. I don't need Nuthin' Fancy. I see a monthly meta released on a Tuesday, and I think to myself, "Well, Tuesday's Gone!" I just hate having to wait a whole month for a Second Helping!
Ira   Tuesday's Gone so I will have to submit my entry Wednesday morning.
Jwaan   Well, you asked for it: PLAY FREE BIRD!
Ken   How 'bout you?!
A total of 394 solvers found their way to the correct answer this month. The average rating for the puzzle was 4.12 stars out of 5, and the average difficulty rating was 2.47. This month's randomly chosen winner of an MMMM coffee mug is Paul Matwychuk from Edmonton, Alberta. Thanks to Matt Gaffney for blogging the puzzle at Crossword Fiend, where you can rate the puzzle (thanks!) and/or leave a comment.
Thanks for playing and see you next month!