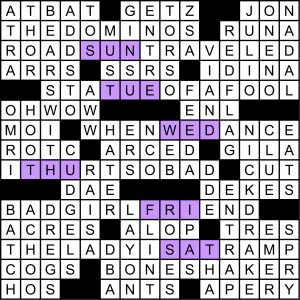 The August MMMM challenged solvers to find a Bruce Springsteen hit that completes the puzzle's playlist. The grid contains six obvious theme entries, all songs clued with a single lyric, as follows:
| | |
| --- | --- |
| ROADS UNTRAVELED | Linkin Park song wth the lyric "Weep not for paths left alone" |
| STATUE OF A FOOL | Ricky Van Shelton song with the lyric "To honor the million tears he's cried" |
| WHEN WE DANCE | Sting song with the lyric "Angels will run and hide their wings" |
| IT HURT SO BAD | Susan Tedeschi song with the lyric "You were the best man I ever had" |
| BAD GIRLFRIEND | Theory of a Deadman song with the lyric "She's naughty to the end" |
| THE LADY IS A TRAMP | Frank Sinatra song with the lyric "Won't go to Harlem in ermine and pearls" |
The trick to getting the meta is realizing that each song title contains a three-letter abbreviation of a day of the week, in order, as shown in the graphic above. The only day missing is Monday, which means we are looking for a Bruce Springsteen hit with the consecutive letters M-O-N. The meta answer is one my favorite songs from the Boss, I'm On Fire. I also accepted Pay Me My Money Down for full credit. I didn't accept Easy Money or Part Man, Part Monkey, since they weren't in any way hits.
It wasn't easy coming up with six songs that fit nicely in a grid, and as a result I was forced to choose some songs that might be unknown to some solvers. Cluing them with a lyric had two benefits: Making it slightly easier to figure out the song titles, and providing a bit of misdirection (cue sinister laugh).
Meta Song:
It was really fun learning this one. We recently debuted it on a livestream in Westport, CT, with a great background.
Selected Solver Comments:
Hollie   Nice trip down memory lane to a time when there were different days in a week, instead of the same day over and over!   Indeed!
Pancho   That "Bad Girlfriend" is catchy as hell!   
FunkyPhD   I bet the Times would never clue-reference a song that begins with the lyric "My girlfriend's a dick magnet."   LOL. The song was inspired by the lead singer's girlfriend, who later became his wife, and then his ex-wife.
MichaelRab   This song should be on every playlist, any day of the week.   Agreed!
Dr M   Maybe subtitle puzzle "Glory Days"?   Nice!
AWise   Good fun, can't wait to see your band perform this hit.   Thanks – hope you liked it!
Alternative Music Clues:
jagoandlitefoot suggests cluing THOR as [Harris who has played drums in Swans, Xiu Xiu, and Shearwater] and FLINT as [City whose water crisis is referenced in Black Midi's "Near DT, MI"].
damefox suggests cluing ACRES as ["Green ___ is the place to be" (opening line of a classic theme song)].
Evan suggests cluing FLINT as [Michigan city where Grand Funk Railroad originally formed].
Groaners:
yosser   Not a week effort.
MamaE   Hoping I'm not "dancing in the dark" with this answer, but rather that I'm "on fire."
jwaan   Quickly spotted this after filling in the second theme clue, felt like a Boss!
Chaneski   This puzzle made my day.
Davefish   I don't like Mondays.   The original meta answer for this puzzle (with a different prompt) was that Boomtown Rats song. I switched it to something less dark.
A total of 279 solvers found their way to the correct answer this month. The average rating for the puzzle was 4.15 stars out of 5, and the average difficulty rating was 2.65. This month's randomly chosen winner of an MMMM coffee mug is Matt Gritzmacher from Southern Pines, NC. Thanks to Matt Gaffney for blogging the puzzle at Crossword Fiend, where you can rate the puzzle (thanks!) and/or leave a comment.
Thanks for playing and see you next month!