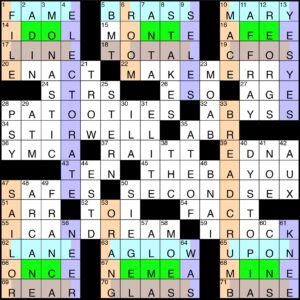 The 2021 mega-meta is an old pop standard. This puzzle, the mega-meta reveal, contains six clues using the word "top" (e.g., FAME =  [What you might get when you climb to the top]). There are also six clues that use "bottom" (e.g., LINE = [Bottom ___]), six that use "left" (e.g., FILE = [Something often left hanging]), and six that use "right" (e.g., ELECTORATE = [Those with the right to vote]).
What you might get when you climb to the 

top

FAME

Top

___
BRASS
"Proud ___" (

top

5 Ike and Tina Turner hit)
MARY
Actor Nathan with 

top

billing in "The Producers"
LANE
Like the 

top

of the Empire State Building at night
AGLOW
At the

top

of
UPON

Bottom

___
LINE
Word at the

bottom

of a receipt
TOTAL

Bottom

17-Across watchers, for short
CFOS

Bottom

REAR
Like the

bottom

of some boats
GLASS

Bottom

BASE
Something often

left

hanging
FILE
What's

left

for dessert, hopefully?
ROOM
Ceremonial staff typically carried in the

left

hand
MACE
One who calls

left

"port"
SAILOR
Critter of which there is a surprisingly small number

left

in the world
ORANG
One

left

by Hansel and Gretel
BREADCRUMB
Those with the

right

to vote
ELECTORATE
Monica who didn't serve

right

?
SELES
"That's exactly

right

!"
YES YES
___-do-well (someone who does nothing

right

)
NEER
"I ___

right

!"
WAS
Colin Kaepernick's

right

one is on the ground on his Time magazine cover
KNEE
The grid words related to these clues form six "boxes," each with a top, bottom, left, and right, and the boxes each "contain" two or three letters. In order of their appearance in the grid, the boxed letters spell out DO-NT-FE-NC-EME-IN, or Don't Fence Me In, the Cole Porter classic, and this year's mega-meta answer. The song was written for a musical, Adios, Argentina, which was never produced, and has been recorded by Bing Crosby, Ella Fitzgerald, Frank Sinatra, and the Killers.
A big congratulations to the 56 people who solved the mega-meta before this puzzle came out, earning extra bonus points and helping them to qualify for the Grand Prize drawing. The first five solvers this year were LL in April (!), and then jpw713, Louis D, ASB, and stmv in May. More than half of the solvers got there after seeing the clue for BOX in last month's puzzle: [Container (and, in a way, what you will find outlined by this year's clues related to the mega-meta)]. Each of this year's MMMM puzzles contained four clues that created a similar box around one or two letters. The full set of 2021 MMMMs and the mega-meta clues are both at the bottom of this write-up.
What about the 2021 Red Herring, a song by Alessia Cara? The first puzzle of the year clued NAILS as [Part of a rock band name that anagrams to an animal]. NAILS anagrams to SNAIL. Each of the next five puzzles contained a similar clue, as shown in the table at the bottom of this write-up. Finding the appropriate animal anagrams and then taking the first letter of each gives you S-E-N-D-A-K, or Maurice Sendak, the famous author of "Where the Wild Things Are," a book about unusual creatures. Alessia Cara has a hit song inspired by the book called Wild Things, this year's Red Herring. A total of 112 people solved the Red Herring this year. Congrats!
Meta Song:
Randy Tico and Theo Aronson sat in with Whools and me. We had fun learning this classic!
Selected Solver Comments:
Mike W   Brilliant meta as usual. Hats off to those that solved it early in the year!
stmv   An educated guess based on the "fenced" letters DONTF we've seen so far, and your evident puckish sense of humor – these letters have been "fenced in" via the Top, Bottom, Left, Right clues.   Solved in May!
Louis D   That was thrilling to figure it out early!   Solved in May!
LesY   I think I have it! Deliciously difficult one this year!   Solved in June!
Leslie   I don't know how you manage to fit three different metas into each puzzle!   It certainly makes constructing the puzzles harder. I guess I'm a bit of a masochist since I enjoy the challenge.
zuckylee   This is the first of these mega-metas I've solved, and the click when I realized the direction words were repeated in each of the puzzles' clues was wildly satisfying.
Katiedid   Very hard until 65a today, then just right.   That was the BOX clue in last month's puzzle mentioned above.
aoboboa   I'm kicking myself from top to bottom for not seeing it sooner. Thanks for another tremendous year, Pete! Please do it again!   OK, since you asked nicely.
JSolomon1999   Super hard, yet obvious (in retrospect) Mega-meta. Congratulations, Peter, on completing another year (and decade 1)!   Thanks! MMMM Year 11 coming up soon …
Hollie   Here's hoping that in 2022 we can all be a little less fenced in. Happy New Year!   Amen!
Alternative Music Clues:
Evan suggests cluing AGE as ["___ Ain't Nothing but a Number" (debut album for Aaliyah)], LINE as ["Bottom ___" (song on Diana Ross's album "Workin' Overtime")], and STERN as [Violinist Isaac or guitarist Mike].
Groaners:
Rocklouder2424   Brilliant! This mega-meta checks all the boxes!
TMart   Top-notch mega-meta, from the bottom of my heart. Almost got left out – I hope I'm right!
HunterX   I was contemplating the meta under the starry skies, but I couldn't quite straddle it. Then… Bing! I got it. Rogers that!
Jwaan   I had to ride to 65A where the solve commences, after gazing at the grids till I lost my senses.
A total of 174 solvers got the mega-meta this year, including the 56 that solved it before this puzzle came out. We awarded extra bonus points this year to 112 solvers for getting the Red Herring. The average rating for the puzzle was 4.67 stars (4.95 from early solvers), and the average difficulty rating was 3.40 (3.94 from early solvers). This month's randomly chosen winner of an MMMM coffee mug is Brent Holman from San Francisco, who also happens to be at the top of the Lifetime Leaderboard. Thanks to Matt Gaffney for blogging the puzzle at Crossword Fiend, where you can rate the puzzle (thanks!) and/or leave a comment.
Grand Prize Drawing:
The updated 2021 Leaderboard has been posted. Please let me know if you think your score is not correct. A total of 48 people have qualified for the Grand Prize drawing by getting the mega-meta early and at least nine other metas this year. Congratulations! The drawing will take place this coming week and the winner will be announced on January 4, when the first MMMM of 2022 comes out.
Thanks for all your kind words inspiring me to do this for another year, and for being part of the MMMM community!
2021 MMMM Puzzles
(Click images to enlarge)
2021 Mega-Meta Clues
January
Org. for top women drivers?
LPGA
Belgian airline that went bottom-up in 2001
SABENA
School that left the SEC in 1966
TULANE
Game in which blocks are stacked at right angles
JENGA
Fenced-in letter
D
February
Fish that becomes a completely different fish if you precede it with "top"
SMELT
Haircut that tapers at the bottom
FADE
Div. often shown on the upper left of baseball standings
NLE
Serena finished right behind her in the 2018 U.S. Open
NAOMI
Fenced-in letter
O
March
Top ___
GUN
Singer concerned with the bottom line?
BASSO
Marks left on a knight's sword after slaying a dragon?
HILTSINGES
Seeing right through
ONTO
Fenced-in letter
N
April
Terrine top, sometimes
ASPIC
Slithery bottom feeder
EEL
Left a bug, say
WIRETAPPED
Weight right here!
SCALE
Fenced-in letter
T
May
Help someone on their way to the top, say
OPENDOORS
Instrument for the Soggy Bottom Boys
BANJO
Left seeing red?
INDEBT
River passing right through Normandy
ORNE
Fenced-in letter
F
June
Top WWII codebreaker Turing
ALAN
Is on the bottom?
SITS
Marks sometimes left by window washers
STREAKS
They sometimes lean right
FONTS
Fenced-in letters
EN
July
Top 10 hit for Stevie Wonder
SIRDUKE
Roc bottom?
TAIL
Tempter on your left shoulder, maybe
SATAN
Leave a group you don't feel right about, say
SEVERTIES
Fenced-in letter
C
August
Singer-songwriter whose "All of Me" reached the top of the charts in 2014
JOHNLEGEND
Bottom of the globe?
SNOW
Class with one year left in H.S.
JRS
"Hold it right there, buddy!"
OHNO
Fenced-in letter
E
September
When hands are at the very top of a clock
NOONTIME
Attachment to the bottom of a microscope's body tube
LENS
Abbr. for those left out
ETAL
People for whom right is "starboard"
BOATMEN
Fenced-in letter
M
October
Garr who shared top billing in "Mr. Mom"
TERI
PC key on the bottom row
CTRL
Compound left out of most CBD products
THC
"Deep Night" lyric word repeated right before the title
DEARER
Fenced-in letter
E
November
Navigational guide whose name sounds like a top Warsaw athlete
POLESTAR
Name on the bottom of Woody's shoe
ANDY
Terra-___ (like the warriors left behind to guard the first emperor of China)
COTTA
Action symbolized by a right-facing arrow
REDO
Fenced-in letter
I
December
Top
CAP
Bottom
ASS
Left ___
COAST
 ___ Comitatus (militant far-right socialist movement)
POSSE
Fenced-in letter
N
2021 Red Herring Clues
Part of a rock band name that anagrams to an animal
NAILS

S

NAIL
Adjective describing freeways that anagrams to an animal
LANED

E

LAND
Public broadcasting station that anagrams to an animal
WNET

N

EWT
Part of a musical instrument that anagrams to an animal
REED

D

EER
Therapeutic spot that anagrams to an animal
SPA

A

SP
Type of website that anagrams to an animal
WIKI

K

IWI