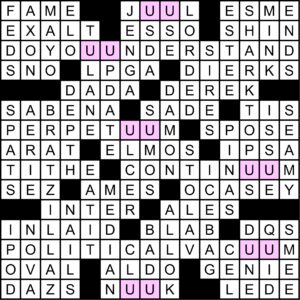 The first meta of 2021 challenged solvers to find a famous band.
There are six grid entries (including the four longest) that contain the letters "UU" consecutively:
JUUL
DO YOU UNDERSTAND
PERPETUUM
CONTINUUM
POLITICAL VACUUM
NUUK
Two U's? Not too hard to go from there to one of the most famous rock bands of all time, and this month's meta answer, U2.
Over 600 solvers found their way to the answer this month, a new MMMM record (our previous best month was 470).  Many solvers told me this was their first submission. Here are a few: Octave, Sara Dacus, ReB, bromani, LynneW, Loren Ipsum, MB, ironstate, DivaBekki, Travis Matthews, and Allan Patterson. Congratulations and welcome!
Meta Song:
We learned one of my favorite U2 songs. I was surprised to find how simple the chord structure is. Stay for the outtakes!
Until doing this write-up, I had forgotten that "With or Without You" was the answer to the December 2016 MMMM, which came out right before I started covering the meta answers. Quite the coincidence!
Selected Solver Comments:
Brian Kell   I spent some time wondering if the Italian Eurodance group Double You qualified as famous.   Not quite. They're not that famous, and in case there's any doubt, the puzzle title contains the word "Double," which would be a no-no. 
Jeff G.   I spent more time than I care to admit thinking Double Meaning / Double U. My wife looked at it for two seconds and said U2.

Alternative Music Clues:
Three of the theme entries could have had musical clues:
Charles Montpetit points out that "DO YOU UNDERSTAND" is a song by Grammy-nominated rapper Shy Glizzy. pbfrommn mentions the Penguin Cafe Orchestra instrumental "PERPETUUM Mobile." And Norm H and derekallen7 both give shout-outs to "CONTINUUM" as a great John Mayer album.
Other suggestions:
Norm H and Chaddog point out that the grid entries ALDO and NOVA could be combined and clued with reference to the Canadian musician who had a hit with "Fantasy."
Erin Milligan-Milburn reminds me that I can clue ESSO by referring to the pop duo Sylvan Esso.
Evan and THRILLPOOL suggest cluing ELMOS as ["St. ___ Fire (Man in Motion)" (No. 1 hit for John Parr)].
LaceyK suggests cluing MINK using the 2001 They Might Be Giants album "___ Car."
ant and Pete M. suggest cluing DEREK as [Leader of the Dominos].

Groaners: (quite a few this month – this is a subset!)
AndrewZ   Welcome back! First puzzle of the year. It's a Beautiful Day!
Dr M   Starting out the year on The Edge?
mpf004   I thought about skipping the MMMM this year, but it's One That I Can't Leave Behind.
JLo to the Bach   Oh oh, the sweetest thing.
Mike Lewis   R U Talking U2 2 Me?
Slash   I hope the band members all wear muumuus while covering a U2 song!
JoeStrummer   Boy, would this have been great for October!
Trout Almondine   Very appropriate first puzzle of the year. All is quiet on New Year's Day.
azmat   What did the sheep say to their partner when they told them they solved the Meta? Ewe too?
wbfritz   "Feds, Axon, Mayo, Tulane!!!"   (A reference to "Unos, dos, tres, catorce!")
glasser   Or is that U12?
CA   Fun. Or should I say fuun!
Laurabrarian   I have found what I'm looking for.
jwaan   Apparently no one here in Philly has managed to put "youse" into a band name yet, so I had to settle on U2.
Jerry Miccolis   I'm sure I'm not the first to offer this, but…"bono."
FrotzNPL   I was going to uuencode my response but I'm afraid you might not be subscribed to the Usenet newsgroup meta.xword.answers.binaries.
A total of 613 (!) solvers found their way to the correct answer this month. The average rating for the puzzle was 4.02 stars out of 5, and the average difficulty rating was 1.98, a nice easy start to the year. This month's randomly chosen winner of an MMMM coffee mug is Matt Posvar from Lincoln, NE. Thanks to Matt Gaffney for blogging the puzzle at Crossword Fiend, where you can rate the puzzle (thanks!) and/or leave a comment.
Thanks for playing and see you next month!