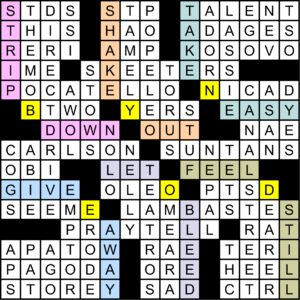 October's MMMM challenged solvers to find a song from 2018. The puzzle grid contains no obvious theme entries, but there are a number of common song title words throughout the grid, surprisingly not clued in a musical way, such as TAKE and EASY. Using the title, "Where Is It?," as a guide, successful solvers found six hidden song titles, each missing an "It," as follows:
STRIP IT DOWN (Luke Bryan)
GIVE IT AWAY (Red Hot Chili Peppers)
SHAKE IT OUT (Florence + the Machine)
LET IT BLEED (Rolling Stones)
TAKE IT EASY (Eagles)
FEEL IT STILL (Portugal. The Man)
All the titles are located symmetrically, which makes it easier for those who aren't familiar with all the tunes. One step remains, and it's a bit tricky. There is a single diagonal square between each pair of song title words, and in order they spell B-E-Y-O-N-D, or Beyond, the 2018 song by Leon Bridges. A nice confirmation click comes from the singer's last name, as each of those squares function as "bridges," in a way.
This month's meta played out far tougher than I expected, and ended a lot of streaks. The most common incorrect answers were "Feel It Still" (which came out in 2017, but charted in 2018) and "The Middle," which was a 2018 hit, and could be thought of as an answer to the question "Where Is It?"
Meta Song:
My band learned this last Friday – here's our version, with John Whooley on vocals:
Selected Solver Comments:
Brent Holman   Very nice tie-in with the "Bridges" in the grid.   Thanks for noticing!
LB800   Was close to giving up but am so glad I didn't!
Wendy Walker   I watched the music video after solving and loved the click in the chorus — "She might be it."    Unintentional but cool!
I. K. Snamhcok   My favorite MMMM so far this year.   
Evan   Something I should really remember on your harder metas: Whenever an everyday word *doesn't* have a musical angle in its clue, it's either because it was extremely hard to find one, or you hid it for meta reasons.   Great solving advice!
Chris Popp   One of my all-time favorite MMMM puzzles.   Thanks!
Alternative Music Clues:
pbfrommn points out that both EASY and STILL could be clued as [Top 5 hit for the Commodores].
Evan suggests cluing CARLSON as [Guitarist Dylan who founded the band Earth].
Groaners:
KayW   "IT" certainly was BEYOND me for the longest time.
A total of 75 solvers found their way to the correct answer this month. The average rating for the puzzle was 3.98 stars out of 5, and the average difficulty rating was 4.28, the hardest of the year. This month's randomly chosen winner of an MMMM coffee mug is Jeremy Horwitz from San Francisco. Thanks to Matt Gaffney for blogging the puzzle at Crossword Fiend, where you can rate the puzzle (thanks!) and/or leave a comment.
Thanks for playing and see you next month!