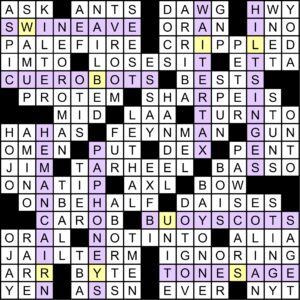 The March MMMM challenged users to find a musical supergroup. The slightly larger-than-normal 17×17 grid contains eight wacky theme entries, such as SWINE AVE. Moving the "W" over a few spaces gives a familiar term, SINE WAVE. The same is true for each of the other entries, as shown in the table below. Taking the moved letters in top-to-bottom order yields W-I-L-B-U-R-Y-S – from there it's not too hard to get to the Traveling Wilburys, the supergroup consisting of Bob Dylan, Jeff Lynne, Tom Petty, Roy Orbison, and George Harrison, and this month's meta answer.
I also accepted Wilburys, since the group's Wikipedia page states that it's sometimes used as shorthand for the band name.
Street sign next to the Three Little Pigs' house?
S

W

INE AVE
(SINE

W

AVE)
Fine imposed by restaurant management on slow servers?
WA

I

TER TAX
(WATER TAX

I

)
Marks left on a knight's sword after slaying a dragon?
HI

L

T SINGES
(HIT SING

L

ES)
Director's call for C-3PO and R2-D2?
CUE RO

B

OTS
(CU

B

E ROOTS)
Help bagpipe players stay afloat?
B

U

OY SCOTS
(BOY SCO

U

TS)
Pile of rocks dedicated to "Masters of the Universe"?
HE-MAN CAI

R

N
(HE

R

MAN CAIN)
People from Pickering pretending to be from Pittsburgh?
PA PHONE

Y

S
(PA

Y

PHONES)
Musician adept at distinguishing micro-intervals?
TONE

S

AGE
(

S

TONE AGE)
Meta Song:
My band was making a record at the Power Station in NYC and we took a break to film this month's meta, featuring some deft camerawork by our friend Chris Morgan. Enjoy!
Selected Solver Comments:
anjhinz   Wow, this is one of my all-time favorite metas – everything was just perfect, I loved it!   Thanks!
NuYear68   Just discovered MMMM today. Looking forward to more.   Welcome!
Gezi   Think the title was too much of a giveaway. 
Octave   I love that your puzzles inspire me to learn more about musicians and music.   That makes me smile.
Allan Patterson   Was 32D (HANDEL) a hint to "Handle With Care", or just a fun coincidence?   Coincidence!
THRILLPOOL, Katiedid, and Norm H all noticed that OTIS (Jeff Lynne's Wilbury alias) made the grid.
Alternative Music Clues:
Evan   suggests cluing FEYNMAN as [Physicist Richard who was a skilled bongo player].
Stribbs suggests cluing ORAN with a reference to pop singer ORAN "Juice" Jones, who had a hit with "The Rain."
Flipperista suggests cluing PETER as [Gabriel or Tork] and pbfrommn suggests that [Buck or Wolf] would work even better.
pbfrommn, Pickleman, and andeux suggest cluing ASPIC as ["Larks' Tongues in ___" (King Crimson album)].
WannabeCoder suggests cluing MID as [500Hz-1.5kHz range].
DIS suggests cluing TURN TO as [ELO's "___ Stone"].
Groaners:
Laurabrarian   You're the best meta that I've ever found. Handle MMMMe with care.
Laura M   Well, it's all right (thanks for the earworm!).
SteveH   Last Night I didn't have the answer and I thought I reached the End Of The Line, but Congratulations were in order when I solved the puzzle. So I had a Margarita with Tweeter and the Monkey Man here in New Jersey.
HunterX   Fun one!I sent my answer in today because, well, All Things Must Pass, and we know The Times They Are a-Changin', so we'll all have to Face The Music in the end and we might as well say "Damn the Torpedoes" and just submit an answer. (No reason to be Petty, after all.)
Blind Pursuit   I had to handle this with care. But I got to the end of the line eventually.
A total of 494 solvers found their way to the correct answer this month. The average rating for the puzzle was 4.38 stars out of 5, and the average difficulty rating was precisely 3.0. This month's randomly chosen winner of an MMMM coffee mug is Patricia Miga from Grapevine, TX. Thanks to Matt Gaffney for blogging the puzzle at Crossword Fiend, where you can rate the puzzle (thanks!) and/or leave a comment.
Thanks for playing and see you next month!