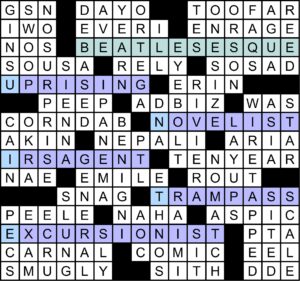 April's puzzle challenged solvers to come up with a song from 1969. The grid contains six fairly obvious, symmetrically located theme entries. The first, BEATLESESQUE, is clued as [Reminiscent of the Fab Four]. The other five all are clued with titles of well-known Beatles songs, as shown in the table below:
Revolution

U

PRISING
Paperback writer

N

OVELIST
Taxman

I

RS AGENT
Ticket to ride

T

RAM PASS
Day tripper

E

XCURSIONIST
Now what? Employing a common meta-solving device – taking the first letter of those five theme answers – yields U-N-I-T-E. Hmmm… Is there a Beatles song that could be clued as [Unite]? Indeed there is, the Fab Four 1969 classic Come Together, this month's meta answer. I also accepted an alternate answer this month, the Beatlesesque Youngbloods song "Get Together," as it could reasonably be clued as [Unite]. (Thanks chaneski for pointing this out!) I didn't accept the Beatles song "All Together Now," because the clue didn't really fit.
Meta Song:
Whools and I tripped out for this one. Enjoy!
Selected Solver Comments:
Jeff G.   Completely stumped at first, then great click, then it seems so obvious after figuring it out. Just the right difficulty level.

mkmf   Nice final click. Wish we could!
David Stein   Don Cherry has a 1969 song "Unite." But I think you're looking for the Beatles tune.   Yes. "Unite" is a 17+ minute jazz tune and certainly not Beatlesesque!
damefox   Is this because there was a meta last year where this wasn't the real answer but a bunch of people submitted it?   Nope – but here's a link to the puzzle in question for those that are curious.
Alternative Music Clues:
DPL11 writes I was going to suggest cluing UPRISING as "Muse song" until, you know, it all came together for me.
pbfrommn suggests SLY can be clued as [___ & Robbie, the "'Riddim Twins"].
Groaners:
Maggie W.   Very elegant! Not at all HAPHAZARD!   That would be [Helter-skelter].
TMart   Don't Ask Me Why, but I was getting Nowhere, Man, until I saw Something down The Long and Winding Road.
Jon R   Great meta! Wish these puzzles came out eight days a week.
Redhead64   How did I manage to find UNITE? Well, let's just say that "one and one and one and one and one is five".
Miesse   Really had to use my Joo Joo Eyeballs to spot this answer.
Laurabrarian   Got to be good looking but this meta wasn't hard to see.
subtly555 suggests some alternative answers: For people who can't find the meta: SOMETHING.  For people who give up: IT'S ALL TOO MUCH.
A total of 339 solvers found their way to the correct answer this month. The average rating for the puzzle was 4.19 stars out of 5, and the average difficulty rating was 2.86. This month's randomly chosen winner of an MMMM coffee mug is Mark Dukas from Piedmont, CA. Thanks to Matt Gaffney for blogging the puzzle at Crossword Fiend, where you can rate the puzzle (thanks!) and/or leave a comment.
Thanks for playing and see you next month!