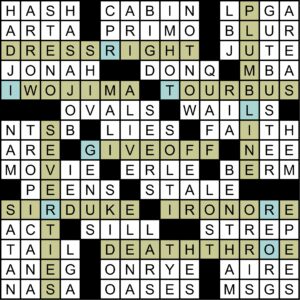 July's MMMM, "Make It Count," challenged solvers to find a musical movement. The puzzle's title was essential to figuring out the meta. Nine different symmetrically located grid entries contain a word that is one letter away from the number ONE, TWO, …, NINE. For example, DEATH THROE has THROE, which is one letter away from THREE. The full set is shown below:
IRON ORE
IWO JIMA
DEATH THROE
TOUR BUS
GIVE OFF
SIR DUKE
SEVER TIES
DRESS RIGHT
PLUMB LINE
Taking the nine replaced letters, in counting order, yields R-I-O-T-G-R-R-R-L, or Riot Grrrl, the early-'90s feminist hardcore punk movement, and this month's meta answer.
Selected Solver Comments:
Jonesy   It was insanely hard for me because i didn't realize that GRRRL was a possible real word!   You weren't the only one!
Laurabrarian   The quotation in my pinned tweet, and my philosophy of life, is: "Find the biggest bitch in town and start a band with her" — Kathleen Hanna.
Tade    I was at first expecting something like allegro or minuet & trio (riot does anagram to trio), but then, this isn't a classical meta.
Trout Almondine   Am I rating these puzzles on a curve against all puzzles, or against other MMMM puzzles? Because rated against ALL puzzles, they're all brilliant, five-star deals.   Thank you!
dallassuckz   I for one cannot wait to hear Pete's rendition of "Rebel Girl."   Ask and you shall receive!
Meta Song:
We were recording my new album at Capitol Records last week and took a quick break to learn and perform a Kindred Souls version of Bikini Kill's "Rebel Girl." Ironically, we were only able to use an iPhone to capture the audio, since the studio equipment was being used to make the record. Aubrey Richmond made a guest appearance on the violin and joined John Whooley, me, and Missy Soltero (who sang the heck out of the song!).
Alternative Music Clues:
Evan suggests cluing NASA as [Ariana Grande song with the lyric "Usually, I would orbit around you / But gravity seems to be the only thing that's pulling me"].
jagoandlitefoot suggests cluing MALI as [Country that the group Tinariwen is from].
andeux suggests cluing MOVIE as ["Cowboy ___" (David Crosby song)].
pbfrommn suggests cluing CPR as ["Someone perform ___!" (plea that prompts Homer Simpson to sing "Bad Moon Rising")].
Groaners:
FrotzNPL   Tony the Tiger approves this puzzle.
HunterX   Grrreat meta! It was a Riot to do. And the movement is a big Deal (at least to Kim).
Abide   Purr-fect!
A total of 253 solvers found their way to the correct answer this month. The average rating for the puzzle was 4.38 stars out of 5, and the average difficulty rating was 3.22. This month's randomly chosen winner of an MMMM coffee mug is Prog Me from Northern Idado. Thanks to Matt Gaffney for blogging the puzzle at Crossword Fiend, where you can rate the puzzle (thanks!) and/or leave a comment.
Thanks for playing and see you next month!