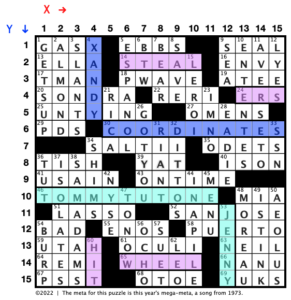 The 2022 mega-meta is a song from 1973. This puzzle, the mega-meta reveal, uses a mechanism similar to the mega-meta. The clues for X AND Y COORDINATES […what most numbers in the clues of this year's puzzles represent] provide a path to the solution.
There are four Across clues and four Down clues which contain numbers between 1 and 15. For example, the first such Across clue is [Team 6 member] for SEAL, and the first such Down clue is [2nd Amendment word] for BEAR. Taking the (6,2) as (X,Y) coordinates takes you to the beginning of the word STEAL. Similarly, doing this for the next three pairs of numbered clues gives ERS, WHEEL, and HIT. When you concatenate these four entries, you get STEAL-ERS-WHEEL-HIT, or Stealers Wheel hit. While the band did have three songs that charted in 1973, their only huge hit was the aptly titled Stuck in the Middle With You, this year's mega-meta answer.
The graphic to the left (thanks Tamara Brenner!) shows how this works. 
SEAL
Team

6

member
BEAR

2

nd Amendment word
ELLA
First name of a singer with

13

Grammys
SSN
W-

4

fig.
BAD
"___ Blood" (Taylor Swift single that went

6

x platinum)
TUT

14

th-century B.C. ruler
WHEEL
Part of

4

WD
LEO
Any of

13

popes
This month's grid also revealed the 2022 Red Herring, a song from the '80s. Each of the first seven MMMM puzzles had a single clue in the form [Country star whose last name rhymes with a number] for STRAIT. Taking the rhyming numbers in order gives 8-6-7-5-3-0-9, and points to the TOMMY TUTONE classic 867-5309/Jenny, the 2022 MMMM Red Herring. 
.
Red Herring Clues
| | | |
| --- | --- | --- |
|  STRAIT | Country star whose last name rhymes with a number | 8 |
|  STYX | Classic rock band that rhymes with a number | 6 |
|  PREVIN | Knighted orchestra conductor whose name rhymes with a number | 7 |
|  CLIVE | First name of a music mogul that rhymes with a number | 5 |
|  TREE | "Cowboys Don't Cry" singer Oliver, whose last name rhymes with a number | 3 |
|  NYRO | Singer-songwriter whose last name rhymes with a number | 0 |
|  PRINE | Folk singer John whose last name rhymes with a number | 9 |
Congratulations to the 57 solvers that got the mega-meta early. The November puzzle provided a helpful nudge, cluing GPS as [Nav. aid with coordinates (like this year's mega-meta)]. Before that puzzle, only two solvers cracked the mega-meta: First was Neville, in May (!) and then ASB in July. Huge kudos to both of you!
Meta Song:
The Kindred Souls learned this one and played it live at a local bar gig. Enjoy!
Selected Solver Comments: (thanks for all the wonderful feedback this month!)
JHSeeman   Awesome. First time doing the complete year of puzzles. Was a blast.   Welcome!
Rocklouder2424   What a great mega meta! Even when I knew what to look for, it was still challenging to figure out the mechanism for finding the correct letter(s) that the "coordinates" pointed to. Very satisfying when I finally got it. Another truly wonderful year of puzzles.
ab   Damn it! I started down this path back in like February, believe it or not, but hadn't got back to try it with the new data. Ack. Should've struck at least a month earlier.
Jeff G.   Hey Pete, Thanks for another great year of meta fun. You continue to pump out high quality, original, fun metas every month and the mega meta is like the icing on top.
jus10   Deviously hidden. Can't hear that song without thinking about Reservoir Dogs!
LaceyK   When searching for 1973 songs, I couldn't help but think that Right Place Wrong Time would make a great meta somehow. Putting the idea out there. And it would be fun to hear your band play it.   Hmm…
Alternative Music Clues:
Stribbs suggests cluing MENU as [Rhyme for "when you" in a Dinah Washington hit].
pbfrommn suggests cluing SEA as ["Under the ___" (Academy Award-winning song sung by an animated crab)].
Groaners:
DarcyDick   I've got a feeling that something ain't right.
Abide   "Started out with nothing…" describes my first ten months!
A total of 141 solvers got the mega-meta this year, including the 57 that solved it before this puzzle came out. We awarded extra bonus points this year to 148 solvers for getting the Red Herring. The average rating for the puzzle was 4.53 stars (4.74 from early solvers), and the average difficulty rating was 4.11 (4.22 from early solvers). This month's randomly chosen winner of an MMMM is Beth Tyrpin of Quincy, IL. Thanks to Hector Pefo filling in for Matt Gaffney and blogging the puzzle at Crossword Fiend, where you can rate the puzzle (thanks!) and/or leave a comment.
Grand Prize Drawing:
The updated 2022 Leaderboard has been posted. Please let me know if you think your score is not correct. A total of 99 people have qualified for the Grand Prize drawing by getting the mega-meta early and at least eight other metas this year, or the mega-meta plus ten other metas.  Congratulations! The drawing will take place this coming week and the winner will be announced on January 3, a week before the first MMMM of 2023 comes out.
Thanks for all your kind words inspiring me to do this for another year, and for being part of the MMMM community!
2022 MMMM Puzzles
(Click images to enlarge)
2022 Mega-Meta Clues