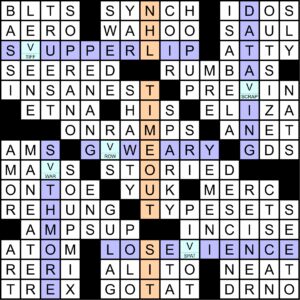 March's MMMM challenged solvers to find a musical act. Well, that's an unusual meta prompt—not a band, not a musician, but a "musical act." Hmmm. What could that mean?
The grid contains five rebus squares, each containing a "V" in one direction, and a type of fight in the other: TIFF, SCRAP, ROW, WAR, and SPAT. The grid's three central down entries, NHL, TIMEOUT, and SIT, provide an additional hint that the meta answer has something to do with hockey. What musical act could this point to other than this month's meta answer, Five for Fighting?
John Ondrasik, aka Five for Fighting, has had three top 40 hits, "Superman (It's Not Easy)," "The Riddle," and "100 Years," but his name isn't that well known. As a result, many solvers needed to turn to Google this month.
I've given partial credit to solvers who found two somewhat viable alternative answers: V for Violence and Five Finger Death Punch. While these are not as good as the intended answer, and not that widely known, each of these alternate solutions connected to both the "V" and the violence theme. I unfortunately can't give credit for War, The Clash, Foo Fighters, or other band names that don't connect to the "V" rebus.
Meta Song:
The newest Kindred Soul, Aubrey Richmond, joined me for this one. Enjoy!
Selected Solver Comments:
Chuck Sneed   I loved the extra clues in 7-, 25-, and 62-down.    That would be NHL, TIMEOUT, and SIT – thanks!
Katiedid   It would be very easy if I had heard of him. Gettable with google, and I learned something!
littlevuberry   Is the "Pent" in the title meant to be a pun on "penta" as in five? Because that's also kind of cute.   Thanks!
Alejandro   For a second I thought it might have been Finnish alternative metal band "V is for Violence," but they're not too well known. Out of curiosity, would you have accepted that as an answer?   I did, for partial credit. The website instructions say that meta answers will be reasonably well known, and these guys have less than 200 monthly listeners on Spotify!
Alternative Music Clues:
Mike W suggests cluing ART as [Paul's partner], while pbfrommn suggests cluing ART as [___ Blakey (longtime leader of the Jazz Messengers)].
shirk suggests cluing SAUL as [Handel oratorio] and ATOM as ["___ Heart Mother" (Pink Floyd album)].
mmurphy suggests cluing T-REX as ['70s glam rock band] or [Who the Who is listening to in "You Better You Bet"].
Evan suggests cluing COIR as [Fiber that becomes a singing group when you add an H inside it] and YEMENI as [The singer Shoshana Damari, by birth].
Groaners:
Matthew G.   There's never a rebus better than this.
Spelvin   Where's "It's Not Easy" in the difficulty options?
Dark Mark   I felt a Clash, when trying to choose between Foo Fighters, Pentatonix, and Edwin Starr.
HunterX   It didn't take me 100 Years to figure out The Riddle of this meta.
Allan Patterson   It's Not Easy to solve these, but I feel like Superman when I do.

A total of 345 solvers found their way to the correct answer this month. The average rating for the puzzle was 4.07 stars out of 5, and the average difficulty rating was 3.44. This month's randomly chosen winner of an MMMM coffee mug is Kurt Triebe from Naperville, IL. Thanks to Matt Gaffney for blogging the puzzle at Crossword Fiend, where you can rate the puzzle (thanks!) and/or leave a comment.
Thanks for playing and see you next month!