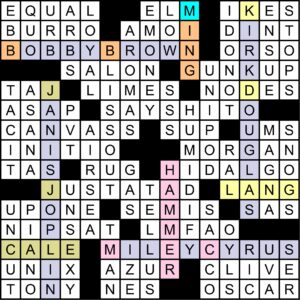 April's MMMM gave solvers this unusual meta prompt: One of the letters in the grid needs to be changed to make the theme consistent. The meta answer is the theme-related word made with the change. The puzzle has four long entries, all two-word musical artists: BOBBY BROWN, JANIS JOPLIN, MILEY CYRUS, and KIRK DOUGLAS. Kirk Douglas, you say? It surprised me too, but check out this clip!
OK, what now? The key insight, hinted at by the puzzle's title, "Initial Reaction," is that the initials of each of these theme entries (BB, JJ, MC, and KD) occur at the beginning of the names of four different musicians: B.B. KING, J.J. CALE, M.C. HAMMER, and K.D. LANG. Of these four, CALE, HAMMER, and LANG all appear in the grid, each crossing their respective theme entry. The only one not present is KING, but the word MING intersects BOBBY BROWN. Changing the M to a K would give KING (or B.B. KING), this month's meta answer.
mpstaple and others noticed that the crossing ELM/MING remains a a valid crossing after the change, becoming ELK/KING.
Meta Song:
I had a blast recording this with all five of the Kindred Souls. Check it out!
Selected Solver Comments:
Drauk   First time! Thanks for a fun puzzle.   Welcome!
Chris Popp   Really enjoyed this – great mechanism and a really fun a-ha click when figured out. I really appreciate how each last name intersects with the matching initials.   Thanks!
leroyboy   I can't thank you enough for including JJ Cale in this puzzle. He was a brilliant songwriter who is too easily overlooked.
Laura M   BTW I would totally buy a downloadable album of the last couple years of Kindred Souls MMMM covers if you ever wanted to put that up for sale, just saying 🙂   Thanks! Stay tuned – we are working on our second cover record…our first one is available here!
Jwaan   I don't see how anyone can suggest extra musical clues this month, after you did one for Kirk Douglas!
Alternative Music Clues:
pbfrommn  suggests cluing EBB as ["___ Tide" (1965 Righteous Brothers hit)] and UNCUT as ["South Park: Bigger, Longer & ___" (soundtrack album featuring the Oscar-nominated song "Blame Canada")].
jagoandlitefoot suggests cluing BLISS OUT as [2020 single by (appropriately) Drug Church].
Stribbs suggests cluing EBB as ["Cabaret" lyricist Fred].
Evan suggests cluing RUG as ["Bare Skin ___" (Blake Shelton song featuring Miranda Lambert)].
Groaners:
BrainBoggler   …the connection between Miley's entry and hammer really pounded the intended path into my head.
Vic Firth   The Thrill Was Gone when I started looking for BeBe Rexha. Thanks for the fun puzzle!
Allan Patterson   The Thrill Is *not* Gone from solving this.
HunterX   Did BB Ming play a vase-shaped instrument?
A total of 375 solvers found their way to the correct answer this month. The average rating for the puzzle was 4.13 stars out of 5, and the average difficulty rating was 2.63. This month's randomly chosen winner of an MMMM coffee mug is Andrew M. from Lafayette, CA (his third time!). Thanks to Matt Gaffney for blogging the puzzle at Crossword Fiend, where you can rate the puzzle (thanks!) and/or leave a comment.
Thanks for playing and see you next month!