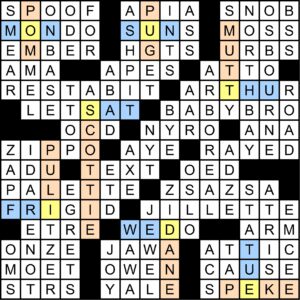 The June MMMM, "Every Dog Has Its Day," challenged solvers to find something you might say to a dog that's also a pop hit from the '10s.
Well that's an unusual prompt! What's going on? Solvers who cracked the puzzle found three-letter abbreviations for each day of the week (MON, TUE, etc.) in the grid. They also found seven types of dogs (POM, PUG. MUTT, PULI, SCOTTIE, DANE, and PEKE), each one intersecting a day of the week. The letters at the intersections spell O-U-T-S-I-D-E, or Outside, the 2014 hit by Calvin Harris (feat. Ellie Goulding), and this month's meta answer. And that's it. Simple if you see the trick, hard if you don't! I also accepted "Go Outside," a song by Cults I hadn't heard of.
A number of people mentioned getting tripped up by finding PIT intersecting SAT, and thinking that was part of the meta. It wasn't – just an unfortunate sneaky pooch finding a way to almost mess things up.
Guesses were fun this month – the most popular incorrect answers were "Stay,"  "Down," "Here," "Shake It Off," and "On the Floor."
Meta Song:
There have been quite a few "Outside" songs, including great ones by George Michael, Foo Fighters, and Staind. But the band decided to go for the Calvin Harris/Ellie Goulding one to expand our range. We've never done an EDM song before, but we consider ourselves ADM (Americana Dance Music), so what the heck! The Kindred Souls learned and recorded our version over a couple hours in the studio, and then we hammed it up at the beach with some cool camerawork by our friends Chris Morgan and Andy Antoni. Enjoy!
Selected Solver Comments:
jagoandlitefoot   …genuinely gasped when i figured out the trick. Beautiful meta!   Thanks!
diablo   I don't know if it's significant that TUE is vertical vs. the rest of the horizontal days.   Nope. Typically I would want to have at least two going in each direction, but this was a challenging grid to build.
patanga   Great construction!   Thanks!
EFlatMinor   "How many song titles could possibly be things you'd say to a dog?" Looks up pop songs from 2010s:
Stay, Down, Bad, Let It Go, Over, No, Good Girl, Leave Me Alone, Let's Go. "oh, I see"   And there are many more…see groaners below.
KayW   Yet another song/artist I never heard of. Thanks for a wonderful meta AND the continuing music education!   My pleasure! I learn too – especially when solvers send in clues that could have been musical.
Alternative Music Clues:
Evan suggests cluing NYT as [Paper with a 2000 headline that referred to TLC as "A Girl Group That Takes No Prisoners In Love"].
jagoandlitefoot suggests cluing STATUE as ["The ___ Got Me High" (They Might Be Giants song)].
BenChen71 suggests cluing MONDO as  [___ Rock (Australian band known for the song "Come Said the Boy")].
Redhead64 suggests cluing SUNS as ["A Thousand ___" (Linkin Park album)].
pbfrommn (and Evan) suggest cluing BYE as [When tripled, worldwide smash for NSYNC in 2000].
Groaners:
Evan   Some impressive crossbreeds there.
HunterX   I was SO hoping the answer was "Hey Baby (Drop It to the Floor)" by Pitbull.
Pete Mitchell   I really wanted the answer to be "Bitch Better Have My Money."
peacelisa   Which fido fears the command and which lies in wait to be sent?
Ed   I got thrown for a minute with PIT (bull?) crossing SAT, but of course SCOTTIE is a more complete dog. Beam him up!
Abide   Would have been perfect for LABor Day!
mattyx   That was ruff!
DarcyDick   This one gave me paws.
DIS   That hit the Spot.
Darrell   I was afraid this one was gonna be ruff, but I'm fairly pawsitive this is correct.
A total of 282 solvers found their way to the correct answer this month. The average rating for the puzzle was 4.39 stars out of 5, the highest of the year, and the average difficulty rating was 3.15. This month's randomly chosen winner of an MMMM coffee mug hasn't responded to my email yet. Thanks to Matt Gaffney for blogging the puzzle at Crossword Fiend, where you can rate the puzzle (thanks!) and/or leave a comment.
Thanks for playing and see you next month!