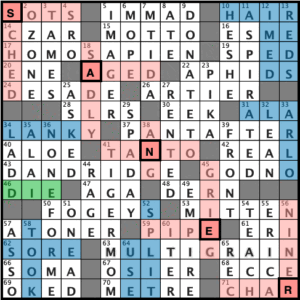 This month's MMMM challenged solvers to find a member of a well-known Motown group. The standard version of the puzzle has asterisks on 10 of the clues, each of which can also clue a word containing the letters "PIN":
REDS [Some wines]   PINOTS
TOOK [Pilfered]   PINCHED  
IMED [Contacted, in a way]   PINGED
LANKY [Gangling]   SPINDLY
USE [Draw upon]   TAP INTO
ALA [Imitating]   APING
HAIR [1970s Broadway musical]   PIPPIN
SORE [Disgruntled]   GRIPING 
ARLO [Big name in folk music history]   CHAPIN
SPLIT [Something you'll see in a bowling alley]   NINEPIN
Each of these "PIN" words can be found in the grid by replacing five squares with the rebus PIN. The replaced letters, in order, are S-A-N-E-R. What now?
The last step to solving the meta is realizing that you need to make one more PIN replacement, changing the A to PIN and spelling SPINNER, this month's meta answer. The clue for the grid entry DIE [Board game accessory] provided final confirmation of the meta answer SPINNER, but only one solver mentioned noticing it!
The Spinners are a famous Motown group, so what else would you call a band member but a "Spinner?" But since "Spinner" is not really in the lexicon, I gave full credit to the three solvers who submitted actual members of the Spinners (Bobby Smith and Philippé Wynne).
This month, a harder version of the puzzle that omitted the asterisks was made available for masochists. Congrats to LL, BobJ, and Matt Gaffney, who all self-reported solving using the hard version (Matt did it accidentally!).
And finally, thanks to Tamara Brenner for making the fancy GIF above!
Meta Song:
The Kindred Souls are about to go on tour, but we took a little time to learn one of the Spinners' classic hits. Our first time doing Motown – enjoy!
Selected Solver Comments:
Hpetrijr   That was tough! But ingenious!
HunterX   Wow! What a construction! Amazing the way the 10 alternate answers led to the 5 pairs of axially symmetrical, diagonally aligned words/letters.
stmv   It was a nice click to see that SPINNER is an alternate answer to 46A [Board game accessory] = DIE.   Thanks for noticing!
Rocklouder2424   I stared at the letters "SANER" for waaaay longer than I should have, having absolutely zero luck finding any Motown artist by that name. I knew I was missing something and thought maybe I myself was not SANER after all…when, all of a sudden I realized we needed to put a pin in it one more time.
Mike W   What a brilliant puzzle!! Superb construction, outstanding use of symmetry, and a fulfilling "aha" moment. Will be interesting how many folks guessed Spinner from the Pin in the title.   I was a little worried about that, but I don't think anyone ended up getting the right answer by guessing!
Alternative Music Clues:
Evan suggests cluing SADLY as ["… Said ___" (Smashing Pumpkins song with the lyric "You see, for so long I was blue")].
DIS suggests cluing NONE FOR ME as [Rod Stewart lyric: "It seems so unfair when there's love everywhere but there's ___"].
Groaners:
Abide   Three days with the hard version: HAP(L)ESS. Thirty minutes with the easy version: HAP(PIN)ESS!
LaceyK   Clever construction in my humble oPINion. 
LJA   This one had me spinning!
A total of 175 solvers found their way to the correct answer this month. The average rating for the puzzle was 4.48 stars out of 5, the highest of the year, and the average difficulty rating was 3.98. This month's randomly chosen winner of an MMMM coffee mug is Larry Bray from Elkhorn, WI. Thanks to Matt Gaffney for blogging the puzzle at Crossword Fiend, where you can rate the puzzle (thanks!) and/or leave a comment.
Thanks for playing and see you next month!