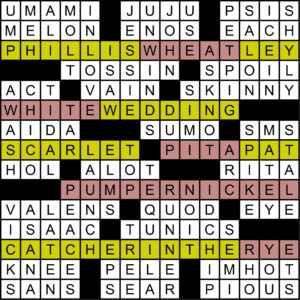 The first MMMM of 2023 challenged solvers to find a California band from the '70s. The puzzle has four clear theme entries, as well as one "sort of" theme entry as follows:
PHILLIS WHEATLEY
WHITE WEDDING
SCARLET PUMPERNICKEL
CATCHER IN THE RYE
PITAPAT
This is the first month of the year, and the meta is supposed to be easy. WHEAT, WHITE, PUMPERNICKEL, RYE, and PITA are all types of Bread, which is also a well-known California band from the '70s, and this month's meta answer.
Meta Song:
We learned and recorded this one last week in Santa Barbara, right before the crazy floods. Enjoy!
Selected Solver Comments:
hoyski   First time doing this. Very fun!    Welcome!
Blind Pursuit   Thanks for the effort you put into these.
Rocklouder2424   Thank you for giving us the gift of the MMMM for another year, Pete. We appreciate you.   And I appreciate you!
mkmf   We also enjoy your band and usually look around at the other videos on your Youtube.   Thanks!
Yvensong   I'm now singing "Make it with You" while grilling some cheese on Rye.
Trout Almondine   Imma get the Mega Meta this year if it kills me.   Noted!
DIS   It could also have been called "Rock and Roll".   Nice!
Alternative Music Clues:
Tade suggests a great idea for an additional theme entry: SOURDOUGH SAM [San Francisco 49er mascot].
jagoandlitefoot suggests cluing RUNNER as [Alex G track that was listed among the 5 best songs of 2022 by Pitchfork, Paste, and NPR].
rachaar suggests cluing I'M HOT as ["This Is Why ___" (2007 hip-hop hit by Mims used by Alex Rodriguez as a walk-up song)] and KNEE as ["On Bended ___" (Boyz II Men jam)].
pbfrommn suggests cluing JUJU as [Siouxsie and the Banshees album featuring the song "Spellbound"].
Evan suggests cluing ACT as ["Caught in the ___" (Chaka Khan song)].
shirk suggests cluing KNEE as ["Bury My Heart at Wounded ___" (Buffy Sainte-Marie song)] and SALON as ["___ and Saloon" (Jim Croce song)].
Groaners: (Easy metas bring out the puns, I guess. This is only a sample!)
mpf004   I'm sure others will say this too, but …. Wonder-ful.
HPetriJr   I kneaded this relatively easy one so the new year didn't start off a rye!
strybner   These puzzles are the best thing since sliced [a California band from the '70s]!
Nikbar   A toast to a great start of the year!
FunkyPhD   If a grid contains a hundred words / Then how am I to know / The meta for this year / With so much left to go?
If a guy could guess a thousand times / I'd send them all to you / And when the year was through / Then one by one you'd nix them all / Then you and I would simply start again
Yosser   Happy to be croissant into 2023. I hope it baguettes some great puzzles that aren't a PITA.
Matt S   CIABATTA watch out, CIABATTA not cry…
merlinnimue   i had naan of the problems i usually do in spotting the meta… but i digress. i just wanted to challah at you and say thanks for another year of puzzles, glad to see you baguette it. here's a toast to a great new year.
Mike Berman   As a naan-expert, I usually struggle with these. But fortunately this one was a Pita cake.
jim32809   What a loaf-ly puzzle. Didn't leave me feeling sour, dough it was a bit corny. Such a pita I had to challah to my brother for a nudge on naan down.
Gezi   Any way you slice it, I'd knead to be loafing around for this one to focaccia me off-guard. (But I know they'll baguette harder as the year doughs on.)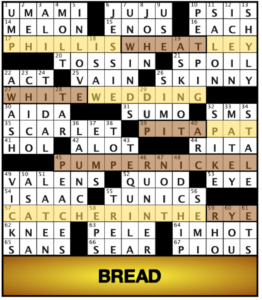 Graphic by Tamara Brenner
A total of 568 solvers found their way to the correct answer this month. The average rating for the puzzle was 3.97 stars out of 5, and the average difficulty rating was 1.67. This month's randomly chosen winner of an MMMM coffee mug is Jay Miller from Pasadena, CA. Thanks to Matt Gaffney for blogging the puzzle at Crossword Fiend, where you can rate the puzzle (thanks!) and/or leave a comment.
Thanks for playing and see you next month!