October's meta challenged solvers to find a famous band. The puzzle contains the following theme entries: SLY AS A FOX, OBIE AWARD, BUS DRIVERS, JON BATISTE, VET SCHOOL, and VERY SWEET.
The key insight is to realize that the first word in each of these themers is two letters short of a "Band of Brothers," the puzzle's title. For example, OBIE + D + O makes DOOBIE, and BUS + L + E makes BLUES. Similarly, the other four entries point to the Isley, Everly, Jonas, and Avett Brothers. The next step is to find a three-letter entry somewhere in the grid that begins with the two missing letters. As shown in Tamara Brenner's graphic below, the third letters of each of these three-letter entries, in order of theme entry appearance, spell out D-A-V-I-E-S.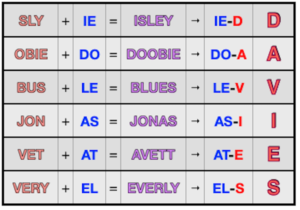 Apparently, there is a very obscure Irish duo called the Davies Brothers (check them out, their music is quite lovely), but they hardly fit the meta criterion of a "famous" band. On the other hand, there is a famous group consisting of two Davies brothers (Dave and Ray), none other than the Kinks, this month's meta answer.
Meta Song:
Was a blast to record one of my favorite Kinks tunes with the Kindred Souls in California. We recorded it live pretty quickly, and that gave us enough time to shoot a fun video. Enjoy!
Selected Solver Comments:
Gezi   That's the longest I've ever worked one and succeeded.   Congrats! As Mike Shenk once said, as a constructor I try hard to fight for as long as possible but eventually lose.
damefox   Gotta write real small to fit THEKINDREDSOULS at 46A 🙂   The clue was for ELS [Openers for Lisa Loeb?], and was suggested by Andrew White, since the Kindred Souls just did five dates opening for Lisa!
dpl11   Can't tell you how close I was to submitting DAWES thinking there was going to be another V for DAVVES (though was wondering why a 2x V). Phew.   I love Dawes! We were supposed to open for them this summer, but got rained out unfortunately.
Tade   The mechanism uses bands who are all known as "XYZ" Brothers, but the meta answer brother band is not in that format. An interesting switch – intentional or just happened to work out that way?   I thought it might be fun to add one more step with a twist.
DJB   Loved this one!   Thank you!
Alternative Music Clues:
Evan suggests cluing NERD as [Hip-hop/rock band with a geeky acronym for a name].
damefox suggests cluing TAE BO as  ["She checks out Mozart while she does ___" (Train lyric)] .
DBMiller suggests cluing DOA as [1971 hit from Bloodrock].
Groaners:
gpagano   You know, I hear Ray and Dave Davies don't have the best relationship. Guess they couldn't work all the kinks out themselves.
Bird Lives   So in those years after Ray but not Dave received a knighthood, The Kinks gigs were a one-knight stand.
KayW   It's a well-respected meta crossword, doing the best things cruciverbally.
Wendy Walker (and many others) YOU REALLY GOT ME for a while there, Pete!
michaelm   That took All Day and All of the Night (and All Day) to solve.
FunkyPhD  This took me All Day and All of the Night, right through the Waterloo Sunset. I was walking on a Dead End Street, searching for Better Things, but being a Dedicated Follower of Muller, a Well Respected Man, I honored my Celluloid Heroes, and found that Sunny Afternoon, where I could Come Dancing with Lola. It's only natural. In the end, this wasn't a streak Destroyer. You Really Got Me for a while though, and I couldn't sleep at night.   (HunterX and Jwaan sent in similar entries.)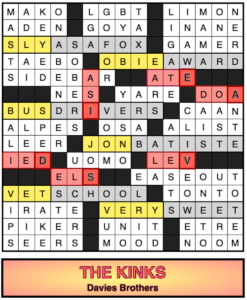 Totals this month:
146 correct,  40 incorrect
Rating:  4.53 out of 5 stars
Difficulty:   3.81 out of 5
Monthly mug winner: Matt Chadsey from Windsor, CO
Thanks to Matt Gaffney for blogging the puzzle at Crossword Fiend, where you can rate the puzzle (thanks!) and/or leave a comment.
Thanks to Tamara Brenner for the graphics.
Thanks for playing and see you next month!