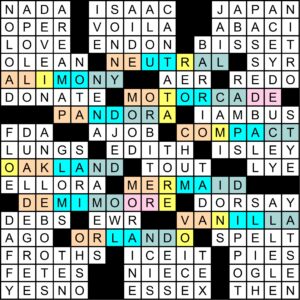 November's MMMM challenged solvers to find a famous singer. The grid contains 10 Across entries that are at least seven letters long, and these turn out to be the theme entries.
The puzzle's title, "Postal Inspection," and the clue for THEN ["And ___ there was one"] suggest the meta mechanism. Each theme entry consists of three or four two-letter postal codes plus one additional letter.
For example, NEUTRAL is NE + UT + R + AL, and MOTORCADE is MO + T + OR + CA + DE. The 10 solo letters, taken in order, spell out R-I-T-A-M-O-R-E-N-O, or Rita Moreno, the super-talented Puerto Rican EGOT winner who sang the popular show tune "America," and this month's meta answer.
This month played way easier than a typical November.
Meta Song:
It was a blast coming up with an arrangement of Somewhere with my longtime rhythm section (Skip Ward and David Silliman) and the indomitable Marcus Miller. Enjoy!
Selected Solver Comments:
Danny K Bernstein   My board debut!   Congratulations!
glasser   Any particular reason for her, or was that just what was constructable?   Rita is famously known for singing "America." In addition, the original title for the puzzle was "Out of State," which was an additional connection, since she's from Puerto Rico. I changed the puzzle title in an attempt to increase difficulty, but it turns out "Postal Inspection" didn't make it that much harder!
PTJefe   Surprisingly solvable for November. (I'm not complaining) 
billkatz   Impressive construction! None of the theme words felt odd while solving the grid.   Thanks!
BenChen71   The difficulty was ramped up for non-US solvers, I have to say.   Understandably! (Berto said something similar.)
Alternative Music Clues:
Eric H suggests cluing NIECE as [Sheila E., to Alejandro Escovedo] and JAIL as [Setting for the Everly Brothers' "Take a Message to Mary"].
pbfrommn suggests cluing NADA as [___ Surf (alternative rock band whose biggest hit was truly "Popular")], CHUM as ["Life is a cabaret, old ___" (title song lyric from the musical "Cabaret")], and DEES as [Rick ___, disc jockey with the #1 hit "Disco Duck"].
Evan suggests cluing NEUTRAL as [Adjective before Milk Hotel in a band name] (Eric H did also), VANILLA as [Noun before Ice in a rapper's name], and MOOD as  ["___ Indigo" (Duke Ellington/Barney Bigard classic)].
Steve Blais suggests cluing ALIMONY as ["Weird Al" Yankovic parody of a 1981 Billy Idol cover].
Mike W suggests cluing ESSEX as ["Rock On" singer David].
Groaners:
mattyx   You DELIVERED on that one! No MAILING IT IN this month! POST facto – I love it!
Allan Patterson   Oh m'EGOT!
Redhead64   Great Georgia-Maine! Er, great GAME!
Mikey G   I want to solve in America!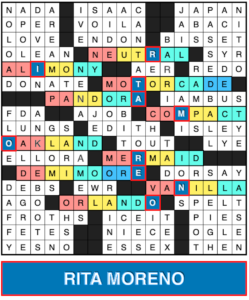 Totals this month:
260 correct, 7 incorrect
Rating:   4.22 out of 5 stars
Difficulty:    2.72 out of 5
Monthly mug winner:  Rachael Walker from Waynesville, NC
Thanks to Matt Gaffney for blogging the puzzle at Crossword Fiend, where you can rate the puzzle (thanks!) and/or leave a comment.
Thanks to Tamara Brenner for the graphic.
Thanks for playing and see you next month!