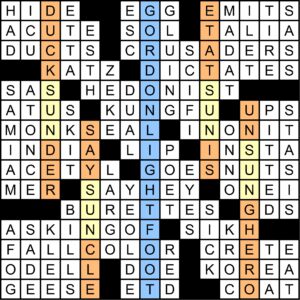 The February MMMM challenged solvers to find a hit '70s song from a Canadian artist. The grid's longest Down entry, GORDON LIGHTFOOT, is a famous Canadian artist who had hits in the '70s. Hmmm, that's suspicious!
Some of Lightfoot's biggest hits include "The Wreck of the Edmund Fitzgerald," "If You Could Read My Mind," and "Carefree Highway." None of these seem connected to what's going on in the grid, although one solver (Matt in the Hat) did manage to find all the letters of "Edmund Fitzgerald" on the left side of the grid. Nice try!
There is, however, one Gordon Lightfoot hit with a clear connection to the puzzle. The grid features four long Down entries, DUCKS UNDER, SAYS UNCLE, ETATS UNIS, and UNSUNG HERO. Each of these entries contains the three-letter string "SUN," pointing to the song in question, Sundown, this month's meta answer.
Meta Song:
We learned this and filmed it in a wine cellar around a single mike. John wore glasses to make sure he could read the lyrics, which were pasted on the wall (you can see what happened before he put them on in the outtakes). Enjoy!
Selected Solver Comments:
mkmf   Good click when it came. Perfect for February.
Robin Booth   First time contributor. Also a Canadian.  Welcome!
damefox   Had to look up Gordon Lightfoot's discography…
Fred   Putting Gordon Lightfoot's name in the puzzle was a big clue.   Yes indeed! I felt like it was necessary for the folks out there who weren't as familiar with the song.
Dawg8866  Why do I think that the 70s was like 20-30 years ago?   I know!
Alternative Music Clues:
Pete Mitchell suggests cluing KUNG FU as ["___ Fighting" (Carl Douglas song covered by Ceelo Green and Jack Black)]. Scott Forbes had the same suggestion.
cml4sinatra suggests cluing LARGO as [Musical tempo that shares a name with a jazz album by Brad Mehldau] and KLEE as [Classical work "Seven Studies on Themes of Paul ___" (Gunther Schuller composition)].
pbfrommn suggests cluing LIP as ["___ Service" (Elvis Costello tune)] and POET as ["___ in My Window" (1982 Nanci Griffith album)].
Stribbs suggests cluing EYES as [They come in Ocean, Watercolor, or Bette Davis varieties, in song].
Evan suggests cluing SIKH as [Like the sacred music of Gurmat Sangeet] and SICK as [Evanescence song with the lyric "I can still taste the poison / Of every thought, / Every breath I wasted here"].
Groaners:
ab   You ever get stuck behind that guy in traffic?  Gordon Lightfoot!
Toby Ornaught   My first try at this. Nothin' more to say. That sol.
Slash   These metas would be a lot easier "If I Could Read Your Mind"!   Many others sent in something similar.
Golem   Sometimes I think it's a shame / When I get through a meta, when I'm feeling no pain.
Dr M   Sol music?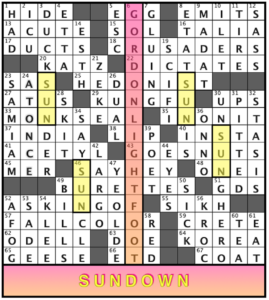 Totals this month
456 correct, 26 incorrect
Rating:  3.98 out of 5 stars
Difficulty:  2.26 out of 5
Monthly mug winner:  Ryan Kelly from San Mateo, CA
Thanks to Matt Gaffney for blogging the puzzle at Crossword Fiend, where you can rate the puzzle (thanks!) and/or leave a comment.
Thanks to Tamara Brenner for the graphic on the left.
Thanks for playing and see you next month!