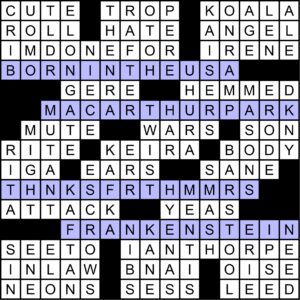 This month's meta challenged solvers to find a famous band. The grid contains four obvious theme entries, clued as follows:
| | |
| --- | --- |
| 1984 rock tune that's often misinterpreted as patriotic | BORN IN THE USA |
| Chart-topping 1978 disco hit | MACARTHUR PARK |
| 2007 rock hit with a disemvoweled title | THNKSFRTHMMRS |
| 1973 chart-topping instrumental rock hit | FRANKENSTEIN |
The key to getting the meta involves figuring out the artist who performed each hit. BORN IN THE USA is a Bruce Springsteen classic, MACARTHUR PARK was a 1978 remake by Donna Summer, THNKS FR TH MMRS was a Fall Out Boy hit, and FRANKENSTEIN was an Edgar Winter Group hit. The highlighted part of each artist's name gives you spring, summer, fall, and winter, collectively referred to as The Four Seasons, which is also the name of a famous band, and this month's meta answer.
The month played easy for some, and less easy for others. There were a couple of traps. First, the inclusion of the song year in the clues (necessary to point to Donna Summer) along with the puzzle title made some solvers think the years were more important than they were. And second, the clues for ELO [Band with a song including a repeated lyric commonly misheard as "Bruce"] and UOMO [Donna counterpart] sent some solvers on a wild goose chase looking for "Fall" or "Edgar" in other clues. Even though those clues may seem to be working a little hard to include "Bruce" and "Donna," this slightly nasty rabbit hole was completely unintentional!
Meta Song:
This cover was really fun to learn. We learned and recorded it on the same day we were doing a photo shoot for the band. Enjoy!
Separately, the Kindred Souls just released our first single off our new cover record Hello Outside, a cover of the Traveling Wilburys' "Handle With Care" that we first recorded for the March 2021 MMMM.
Selected Solver Comments:
Shawn P   This was the perfect puzzle for the March weather we're having this year!
Jonesy   Donna and Bruce in the clues gave me pause!   Accidental rabbit hole!
thanman2   The Grammy connotation in the title had me chasing red herrings for a good long time!
clare   Was so confused as to why MacArthur Park was clued as the cover and not the original until I got the meta! This one was a super satisfying solve, as always.
Jerry Miccolis   Having the seasons appear in the grid in their natural sequence was a nice grace note.   Thanks for noticing!
Alternative Music Clues:
Lots of suggestions this month! I always enjoy these, as I'm often turned on to something I haven't heard – thanks for sending them in! Selected ones below:
damefox suggests cluing BODY as ["My ___" (Young the Giant song)].
jagoandlitefoot suggests cluing it as [They Are Gutting a ___ of Water (shoegaze band with the 2022 album "Lucky Styles")].
Pete Mitchell suggests cluing it as ["___ and Soul" (jazz standard)]. He also suggests cluing SANE as ["Aladdin ___" (Bowie album)] and AGE as ["What's My ___ Again?" (Blink-182 hit)].
Chris Popp suggests cluing ERIE referring to the Springsteen song "Erie Canal."
pbfrommn suggests cluing HAR as [___ Mar Superstar, singer-songwriter who took his stage name from a Minnesota mall].
Redhead64 suggests cluing MUTE as [Record label that has released most of Depeche Mode's albums], and also suggests one more clue for BODY: ["Rock That ___" (Black Eyed Peas hit)].
andeux suggests cluing BARSTOOL as ["___ Blues" (1975 Neil Young song)].
Groaners:
PTJefe   I'll let other solvers provide the puns; nothing springs to mind right now.
Phantom Cream Pie   Grt Pzzl. Thnks Mllr.
WannabeCoder   Went down a couple of rabbit holes and into a dark Valli, but got there eventually. (similar entries from merlinnimue and DIS)
KenA   Workin' My Way to the Meta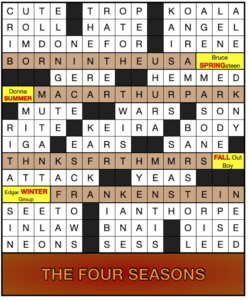 Totals this month
378 correct, 44 incorrect
Rating:  4.15 out of 5 stars
Difficulty:  2.64 out of 5
Monthly mug winner:  Neville Fogarty from Newport News, VA.
Thanks to Matt Gaffney for blogging the puzzle at Crossword Fiend, where you can rate the puzzle (thanks!) and/or leave a comment.
Thanks to Tamara Brenner for the graphic on the left.
Thanks for playing and see you next month!