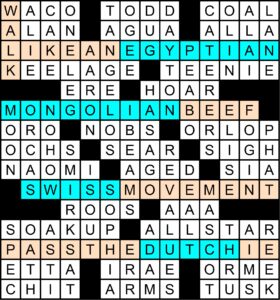 This month's MMMM challenged solvers to find a song from 2017. The puzzle's four theme entry songs each contain a nationality:
WALK LIKE AN EGYPTIAN
MONGOLIAN BEEF
SWISS MOVEMENT
PASS THE DUTCHIE
The puzzle's title, "Capital Records," suggests what to do next – look at the capital cities of each of the associated countries. This gives you
EGYPT –> CAIRO
MONGOLIA —> ULAANBAATAR
SWITZERLAND —> BERN
HOLLAND —> AMSTERDAM
Taking the first letter of each capital city gives C-U-B-A, or CUBA. One step remains. The capital of Cuba is Havana, which is also the title of a hit 2017 song by Camila Cabello featuring Young Thug, and this month's meta answer.
Meta Song:
I was in New York without the Kindred Souls and enlisted some other musical friends to help me out on this one. We decided to skip the Young Thug rap and put a jazz spin on the tune. It was so much fun to learn and record – enjoy!
Selected Solver Comments:
misunderstruck   It helped that I did this after doing Friday's NYT crossword, which was a fortuitous bit of timing.   HAVANA was clued as [Title city in a 2017 #1 hit by Camila Cabello]. I had a good chuckle while solving!
Lorna   First timer, from down under!   Welcome!
AZinDC   Flailed for quite a while (and pored over lists of songs from 2017 in the process) until I thought to look at the title of the puzzle! I saw the nationalities right away, but would have never thought to consider their capital cities without the title. The feeling when it came together was the best!!!   Always remember to look at the puzzle title!
mlangschwager   This puzzle sent me to my atlas after solving it. While I wasn't surprised to confirm that Mongolia's capital was the only one to start with a "U", it was quite amusing to realize how many country capitals started with "B"! There's a LOT of them!   I was thrilled to include "Swiss Movement" in the puzzle because I adore that album. "Compared to What" is an awesome tune and I'm grateful to my first jazz teacher for turning me on to it.
BenChen71   I found 36D (REVALUES = [Pegs to a new number, as with a currency]) to be a serious rabbit hole ("capital" can refer to currencies)!   Completely accidental and slightly nasty red herring for those familiar with currency trading!
Alternative Music Clues:
Evan suggests cluing OLIN as [18th-19th century Swedish opera singer Elisabeth] and OATH as [Cher Lloyd song with the lyric "All the scars we share / I promise, I swear"].
damefox suggests cluing NO HOW as ["Not nobody, not ___!" (spoken line in the middle of "If I Were King of the Forest")].
Zoltar suggests cluing SOPHIA with a Cuba connection as [One of the Peabody sisters].
Groaners:
ChrisinCA   Was almost ready to Quito, but Dublin-ed and Tripoli-ed my efforts!
Nikbar   We're definitely Havana Good Time tonight!
Robin   Most capital, good sir.
EasyNow   Unlike Camila's love interest in the song, it had no malo in it.
Jwaan   First thought it was East Atlanta, but na-na-na.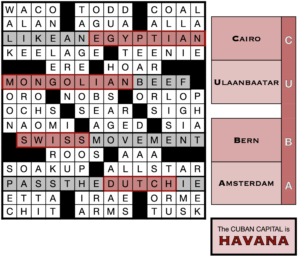 Totals this month
433 correct, 53 incorrect
Rating:  4.16 out of 5 stars
Difficulty:  2.17 out of 5
Monthly mug winner:   Jim Sherman from Falls Church, VA
Thanks to Matt Gaffney for blogging the puzzle at Crossword Fiend, where you can rate the puzzle (thanks!) and/or leave a comment.
Thanks to Tamara Brenner for the graphic on the left.
Thanks for playing and see you next month!