This month's meta prompt was wordier than usual: One of the long Across entries in this puzzle needs to be replaced by the meta answer, an alternative rock band of the same length, in order for the theme to make sense. 
The grid contains five theme entries, each of which can be separated into two common words:
HANDLEBAR, BOAT RACE, CAR WHEEL, BASEBALL, and GAME NIGHT. Which one of them needs to change?
The key to solving the meta is realizing that the last four entries can be broken up and chained together to create different compound words, as follows:
BOAT RACE // RACE CAR // CAR WHEEL // WHEEL BASE // BASEBALL // BALL GAME // GAME NIGHT
The trick is finding an alternative band with a nine-letter name that can be broken into two words which complete the chain, wrapping around from the last theme entry back up to the first theme entry. For some, the answer came right away. For others, a Google search was necessary to find Lifehouse, the alternative rock band that is this month's meta answer. Replacing HANDLEBAR with LIFEHOUSE makes the chain complete, as follows:
BOAT RACE // RACE CAR // CAR WHEEL //  WHEEL BASE // BASEBALL // BALL GAME // GAME NIGHT // NIGHTLIFE // LIFEHOUSE // HOUSEBOAT
P.S.: I've decided to accept Clubhouse as an acceptable alternative answer (sent in by three solvers). Clubhouse is a fairly obscure band from Cleveland, OH, but they cite Green Day as one of their influences, and hence can be considered "alternative." CLUB pairs with NIGHT to make NIGHTCLUB.
Meta Song:
We filmed this in NYC the same day we did last month's and I was once again joined by my NYC crew. Enjoy! And for those wondering, the Kindred Souls will be back for next month's solution!
Selected Solver Comments:
Matt M.   I love chains like this, thanks.
HunterX   As I have never heard of Lifehouse, it was a bit of a "Search every alt-rock band name until one works" exercise. But I like the "chaining" feature.
Bird Lives   For us alt-ignorant, very difficult.
Qmark   Didn't know the band, but I know I've heard the song…

BobJas   Nice straight-forward mechanism. But only rated 3 stars due to spending way too much time googling for the band.
Alternative Music Clues:
Eric H suggests cluing MANAGER as [Brian Epstein or Albert Grossman, e.g.], ARWEN as ["The Lord of the Rings" character played by the daughter of Aerosmith's Steven Tyler], and REX as [Richard Rodgers musical about Henry VIII that flopped in 1976 (and was the Broadway musical debut of Glenn Close)].
Psychic Pilot suggests cluing CAR WHEEL as [Singular item Lucinda Williams hears on a gravel road.] Eric H suggested that too!
EasyNow suggests cluing SONAR as ["But I still feel you pulsing like ___ from the days in the waves" (spoken lyrics from a Third Eye Blind single)].
pbfrommn suggests cluing LUMEN as [Lead track on Mannheim Steamroller's "Fresh Aire V" album].
mmurphy suggests cluing LIT as ["My Own Worst Enemy" band].
Redhead64 suggests cluing RILL as [When doubled, song by the noise-pop duo Sleigh Bells that samples Funkadelic's "Can You Get to That"].
rachaar suggests cluing ADD as ["___ It Up" (Violent Femmes song)], TWERK as [What Lizzo can famously do while playing the flute], and REX as [Seminal English rock band T. ___].
Groaners:
Azmat   Answer came to me while fishing on a headboat listening to night radio.
Dawg8866   I had to do "Whatever It Takes" to get this month's MMMM. And yet I'm wondering "Am I Ever Gonna Find Out" the Mega Meta answer
EasyNow   Do you want to know how this month's meta made me feel? Desperate for changing, starving for truth, NO closer to where I started, chasing after the answer.
peacelisa   So much night life solving this puzzle, have to vacay on a houseboat!
Jon R   Now that the year is Halfway Gone, can I get a hint to the Mega-Meta? I promise I'll keep it between You and Me.
Jennifer   At first, we just couldn't get a handle on this meta, but then we found the baseline and raced to the answer. Fun puzzle!
Mikey G   'Cause it's you and me
And all of the people with puzzles galore
Metas and more
And it's you and me
And all of the people
And I don't know why
I can't keep my eyes off of well-crafted, intellectually invigorating crossword puzzles.
BenChen71   This puzzle left me hanging for a moment but I just let things spin for a while until I took it away with the answer!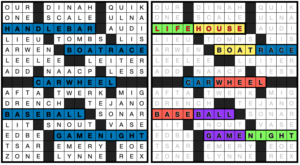 Totals this month:
312 correct, 57 incorrect
Rating: 4.03 out of 5 stars
Difficulty: 3.32 out of 5
Monthly mug winner: ASB from Vancouver, WA
Thanks to Matt Gaffney for blogging the puzzle at Crossword Fiend, where you can rate the puzzle (thanks!) and/or leave a comment.
Thanks to Tamara Brenner for the graphic on the left.
Thanks for playing and see you next month!