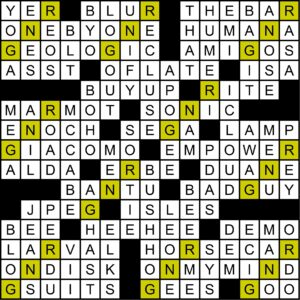 This month's MMMM challenged solvers to find a famous rock musician. The puzzle has no obvious theme entries, so something else must be going on. But what?
The key is to look on the diagonals of the grid. In 10 different spots, the letters "G," "N," and "R" appear in a diagonal, creating a slash mark of sorts.
"GnR" is shorthand for the famous rock band Guns N' Roses, and their renowned guitar player, Slash, is this month's meta answer.
A number of solvers made a case for Axl Rose, GnR's lead singer and also a famous musician. While there isn't a connection to the 10 slash marks, the puzzle's title, "Triple Up," coincidentally (!) pairs with Axl Rose very well, as in "Triple Axl" and "Rose Up." Axl Rose isn't as good an answer as Slash, but it's worthy of full credit. Solvers who sent in Axl Rose won't be eligible for this month's mug drawing, however.
Meta Song:
The Kindred Souls are back this month for an alternative approach to "Sweet Child o' Mine," one of GnR's biggest hits – enjoy! The band will be on tour later this month on the eastern seaboard – you can check out our dates here. If you make it out to a show, please come and say hi – I love meeting crossword fans at concerts!
Selected Solver Comments:
ant   Absolutely impressive that there were no stray Gs, Ns, or Rs in the grid!
hoover   The repeated diagonal GNRs almost sent me to SLASH, but then I looked at the title again and decided to go with Triple AXL and ROSE Up.
BethA   I remember in my earliest crossword days, doing a puzzle which spelled out something along an entire diagonal. It was REALLY NEAT!!! 
Slash   Ahh, my namesake! I loved the 10 slashes, as well as the image of a claw "slashing" across the puzzle (or given the guitarist, "shredding" the puzzle)!
Laura M   Amazing construction! I can't believe that you fit in 10 diagonal GNRs symmetrically without those letters appearing elsewhere, and the grid was still doable!   
Alternative Music Clues:
Psychic Pilot suggests cluing BEE as [___ Thousand (legendary Guided By Voices album)].
damefox suggests cluing YOGA as ["I'm So Good at ___" ("Crazy Ex-Girlfriend" song)].
andeux suggests cluing APOGEE as [Pete Christlieb/Warne Marsh album produced by Donald Fagen and Walter Becker].

DIS suggests cluing THE BAR as ["John at ___ is a friend of mine"].
Groaners:
Jwaan   I could tell this grid was Pretty Tied Up in structural weirdness, but getting the meta took a lot of Patience. Or maybe just Bad Obsession. Finally noticed the regularity of the G's and R's and got to Paradise City with a day to spare.
Abide   Genius Never Rests!
Mikey G   Sweet meta o' mine!
Robin   GNaRly Puzzle
Totals this month:
207 correct, 37 incorrect (29 solvers sent in AXL ROSE instead of SLASH)
Rating: 4.18 out of 5 stars
Difficulty: 3.82 out of 5
Monthly mug winner: Tina Lippman from Newburgh, IN
Thanks to Matt Gaffney for blogging the puzzle at Crossword Fiend, where you can rate the puzzle (thanks!) and/or leave a comment.
Thanks to Tamara Brenner for the graphic on the left.
Thanks for playing and see you next month!