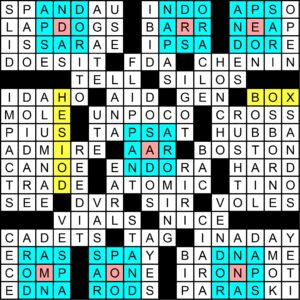 August's MMMM challenged solvers to find a famous rock song. The larger-than-average grid contains no obvious theme entries. Where to start?
The key to cracking this meta was to notice the linked clues for 33-Down, HESIOD [Famous Greek poet], and 37-Across, BOX [Container associated with a famous poem by 33-Down]. The box in question (actually mistranslated from the Greek word for a large storage jar) is the famous Pandora's box, which also connects to the puzzle's title, "Hope Springs Eternal." Hope was the last thing left in the box.
As shown in the diagram to the left, the grid contains seven boxes composed of the letters in PANDORAS in order, starting in one of the eight box squares, and then proceeding either clockwise or counterclockwise. Each of these boxes contains a single letter. Taking them in order spells D-R-E-A-M-O-N, or Dream On, the famous hit by Aerosmith (which can be found on their compilation album "Pandora's Box").
Meta Song:
We had a lot of fun coming up with our version of this classic song. Eric Donnelly and Andy Mac joined the Kindred Souls for this one, and Missy Soltero killed it on the vocal.
Selected Solver Comments:
Evan    I always forget that hope was the one thing left inside the box after Pandora released the evils.
Hopek88   As someone named Hope, I especially loved this puzzle!
mnemonica   Best aha moment of the year!
dpl11   When you didn't clue "BOX" with Squeeze, Heart Shaped or of Rain, I thought something had to be up.   Always be on the lookout for surprising clues!
cyn   I almost submitted pandora's box lol, fun one!   Also an Aerosmith song, but not a hit.
Alternative Music Clues:
EricH suggests cluing IDAHO as ["Private ___" (1980 B-52's hit)], PASO as [El ___ (town in a Marty Robbins classic)], and STAND as [1989 R.E.M. Top 10 hit].
Psychic Pilot suggests cluing SILOS as [With "the," Rolling Stone's Best New Artist of 1987].
Evan suggests cluing TELL as ["___ Me Something Good" (1974 hit for Rufus and Chaka Khan)].
Jennybean suggests cluing BOBTAIL as [One site for bells in a song about a retro joyride].
DIS suggests cluing ATOMIC with the Blondie song.
pbfrommn suggests cluing DORE as ["Pilot of the Airwaves" singer Charlie] and CANOE as ["Can You ___?", Grammy-winning album by The Okee Dokee Brothers].
Groaners:
Touchdown   Excellent example of the purloined letter.
Abide   This one definitely belongs in the MMMM pantheon. (Hope you see what I did there.)
Phantom Cream Pie   Thought you could stump us Muller? Dream on.
Robin D   I was going crazy because I didn't want to miss a thing, but I finally felt amazing like I could fly away from here.
Mikey G   This puzzle was Aero-dynamic!
FunkyPhD   Dude, this was Amazing. It wasn't the Same Old Song And Dance, because when I realized that I could Walk This Way and Draw The Line, the solution would Come Together, and I could have the Sweet Emotion of being Back In The Saddle. I had What It Takes to Get To The Other Side, so I'm not Jaded, Crazy or Cryin'.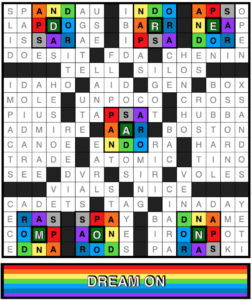 Totals this month:
159 correct,  34 incorrect
Rating:  4.55 out of 5 stars
Difficulty:  3.76 out of 5
Monthly mug winner: Jen Daly from Albany, CA
Thanks to Matt Gaffney for blogging the puzzle at Crossword Fiend, where you can rate the puzzle (thanks!) and/or leave a comment.
Thanks to Tamara Brenner for the graphic on the left.