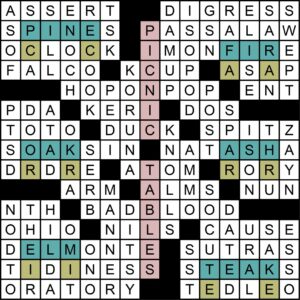 September's MMMM challenged solvers to find a famous singer. The grid contains no obvious theme entries. So where to start? The first thing to notice is the unusual clue for PICNIC TABLES [Park structures usually constructed from timber]. Timber? Why not just say "wood?" Well, there's a good reason.
The second thing to notice is that six symmetrically located grid entries contain names of trees: SPINES, I'M ON FIRE, SOAKS IN, NATASHA, DEL MONTE, and STEAKS. OK, what now? The key is realizing that, for each type of wood, the letter directly beneath the start and the end are always the same, creating what you could think of as (picnic) tables. Reading those letters in order spells C-A-R-R-I-E, and points to this month's meta answer, country pop superstar Carrie Underwood.
Many people commented on how much they enjoyed this theme, and it was fun collaborating with Mack on it. This was our first collaboration where he came up with the initial meta idea, and it was a great one!
Meta Song:
Lucky to have both Martha McDonnell and Taylor Tote share the vocals on this Carrie Underwood classic, joined by the NYC sound machine. Enjoy!
Selected Solver Comments: (so many great comments this month – thank you!)
Andsometimesy   Finding the trees was the easy part. Just needed to look under them!
pxofferson   Brilliant. What an aha moment!
ryoustra   You're really elevating this art form. Always look forward to what your twisted minds create!
Blind Pursuit   That was so clever! First guess was Roy Wood of Wizzard/ELO fame. Second guess was Woody Guthrie! Luckily I saw the "legs." Laughed out loud when I got it. Nicely done!
AK   Awesome puzzle.
Abide   This one was off the charts on the Aha/Joy meter!
Alternative Music Clues:
Stribbs suggests cluing ASAP as [Often stylized hip-hop collective featuring Rocky and Ferg].
mmurphy suggests cluing O'CLOCK as [Alan Jackson and Jimmy Buffett's "It's Five ___ Somewhere"] and DUCK as [1983 Malcolm McLaren album "___ Rock"].
Cruciverbalicious suggests cluing FALCO as [Writer/performer of "Rock Me Amadeus"].    Brainbow, Allan Patterson, Jwaan, and others had the same idea.
pbfrommn suggests cluing DUCK as [___ Sauce (duo with the 2010 hit "Barbra Streisand")], and SST as [___ Records, onetime label for Hüsker Dü, Sonic Youth, and Screaming Trees (!)].
Tade suggests cluing ENOCH as [Carrie's boyfriend in "Carousel"].   Carrie!
Pete Mitchell suggests cluing ATOM as ["___ Heart Mother" (Pink Floyd album)].
Evan suggests cluing OHIO as ["Funky Worm" funk band ___ Players].
Groaners:
SoccerMom   This puzzle stumped me at first but I kept chopping away at it.
michaelm   Blown Away. How Great Thou Art.
Gezi   My favorite meta ever? If I Didn't Love You before, this was to Remind Me How Great Thou Art. (Admittedly I had to look up all those song titles…just airing my Dirty Laundry, can't Undo It even if you think I did Somethin' Bad.)
FunkyPhD   Hmm. Not Roger Daltree, not one of the Beech Boys and not even Ronnie Wood (though he did sing Ooh La La, a song that Rod Stewart hated).Danny Wood is an Old Kid on the Block. Michelle Branch, the Roots? Kate Bush? Screaming Trees? I could barely find the forest for the trees.
Gwinns   This is a bad month for someone to cheat.
andeux   At least it wasn't Spruce Bringsteen.
sharkicicles   Wood have loved this puzzle no matter what!
Spelvin   Such a good reveal. I'm definitely not going to smash your headlights now.
Mikey G   I'd sing her songs, but I can't Carrie a tune.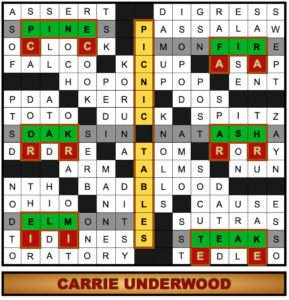 Totals this month:
209 correct,  56 incorrect
Rating:  4.56 out of 5 stars
Difficulty:   3.48 out of 5
Monthly mug winner: Deepak Bal from Verona, NJ
Thanks to Matt Gaffney for blogging the puzzle at Crossword Fiend, where you can rate the puzzle (thanks!) and/or leave a comment.
Thanks to Tamara Brenner for the graphic on the left.
Thanks for playing and see you next month!