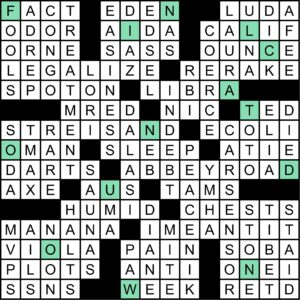 The 2020 MMMM mega-meta is a song from the '80s. This puzzle, the mega-meta reveal, includes 14 clue pairs with matching numbers whose grid entries intersect, e.g. CALIF [Home to most of I-5] and ULNA [Fifth-longest bone in the body]. The table below shows all 14 pairs. Taking the letters found at the intersection points in numerical order spells out F-I-N-A-L-C-O-U-N-T-D-O-W-N, or The Final Countdown, the '80s hit by Europe, and this year's mega-meta answer.
The mega-meta was slowly revealed throughout the year, as each of the 12 regular-season MMMM grids contained one clue pair, with the "FIN" rebus mechanism in the March MMMM making it possible to get 14 letters in 12 puzzles. The full list of clues is shown at the bottom of this write-up, along with thumbnails of each grid. A total of 70 solvers cracked the mega-meta before this puzzle came out. Congratulations to all of you!
What about the red herring? One clue in each of the first six puzzles featured a number repeated three times (e.g. the clue for DATE was [12/12/12, e.g.]). Taking the first letter of the corresponding grid entry gives D-N-E-E-H-T, or read in reverse order, The End, this year's red herring. I accepted any song title containing "the end," such as "The End of the Innocence" or "It's the End of the World as We Know It (And I Feel Fine)." The six red herring clues are shown at the bottom of this write-up.
"How in the heck did anyone get this in February?," asks JanglerNPL about the mega-meta.  A good question. Quite a few solvers who saw the red herring numbers guessed the actual mega-meta without understanding the mechanism, simply thinking the countdown would continue throughout the year. That was completely unintended!
 CLUE #1
 CLUE #2

F

ACT
"The Beatles have the most #

1

hits on the Billboard pop charts," e.g.
 FOOLS
April

first

targets
 A

I

DA
Elton John/Tim Rice opera adaptation that featured a #

2

song on the Adult Contemporary chart ("Written in the Stars")
 DIAZ
Demi Moore flirts with her in the

second

"Charlie's Angels" movie
 

N

AS
Rapper with a song in "Rush Hour

3

"
 EDEN

Third

-day creation, presumably
 LIBRA
Andreas Vollenweider, Jon Secada, or the Pet Shop Boys' Chris Lowe, say (all born on October

4

)
 LAURA

Fourth

hurricane of this year's Atlantic hurricane season
 CALIF
Home to most of I-

5

 ULNA

Fifth

-longest bone in the body
 OUNCE
There are

6

teaspoons in a fluid one
 DICK
"Moby-___" (Melville's

sixth

novel)
 SODA

7

UP, e.g.
 OMAN
Nation that adopted Islam in the

seventh

century
 UMA
"Jennifer

8

" co-star Thurman
 AUS
Country with the

eighth

-largest immigrant population after the U.S.: Abbr.
 NEB
#

9

on U.S. News & World Report's "Best States" list: Abbr.
 STREISAND
The Cecil B. DeMille Award was her

ninth

Golden Globe
 TED
Nugent of "Intensities in

10

Cities" fame
 TOTO
Band whose

tenth

album was called "Tambu" (a Caribbean musical style)
 DIED
Went Chapter

11

and didn't restructure successfully, say
 ABBEY   ROAD
Beatles album whose

eleventh

track is "Mean Mr. Mustard"
 NOON

12

, sometimes
 VIOLA
"

Twelfth

night" role that's also a musical instrument
 PAW
"___ Patrol" (kids' TV show that debuted in '

13

)
 WEEK

Thirteenth

of a quarter, roughly
 ONE I
"To the ___ love" (February

14

words)
 STONE
A

fourteenth

of it is a pound
Mega-Meta Song:
It was hard to record this song without laughing, but somehow we managed. Check out the outtakes at the end of the video.
Selected Solver Comments: (thank you!)
Evan   Amazing work fitting 28 (!) relevant answers and clues in a 15×15 grid and congrats on another awesome year of metas.
Katiedid   That was amazing. I went back to look at how they were clued during the year… I had actually marked the ordinal numbers for the first six months, but gave up!
mkmf   This must have been such fun to construct.
Brian Kell   Thanks for another year of fun!
dbardolph   Sweet piece of construction! See you next year.
WannabeCoder   The theme was clever, and the execution in this puzzle AMAZING!
500Cruciancarp   Great for the end of this year that keeps dragging on.
Alternative Music Clues:
Evan suggests cluing DIANE as ["I Don't Want to Miss a Thing" songwriter ___ Warren], which would be a great song title for meta solvers, eh?
Groaners:
Hollie   Can you perform this in a break room with a microwave a la the Geico commercial?
susaberry   This is how I feel whenever I leave the house these days.
Slash   I'm looking forward to the final countdown on New Year's Eve and saying good riddance to 2020. If your band takes requests, I request that you don't cover this song!
A total of 265 solvers got the mega-meta this year, including the 70 that solved it before this puzzle came out. We awarded extra bonus points this year to 51 solvers for getting the red herring. The average rating for the puzzle was 4.49 stars, and the average difficulty rating was 3.17. This month's randomly chosen winner of an MMMM coffee mug is Joe Varone from Point Pleasant, NJ. Thanks to Matt Gaffney for blogging the puzzle at Crossword Fiend, where you can rate the puzzle (thanks!) and/or leave a comment.
Leaderboard:
The updated 2020 Leaderboard has been posted. Please let me know if you think your score is not correct. A total of 58 people have qualified for the Grand Prize drawing by getting the mega-meta early and at least nine other metas this year. Congratulations! The drawing will take place this coming week and the winner will be announced on January 5th, when the first MMMM of 2021 comes out.
Thanks for all your kind words inspiring me to do this for another year, and for being part of the MMMM community!
2020 MMMM Puzzles
(click images to enlarge)
2020 Mega-Meta Clues:
 CLUE #1
 CLUE #2
 ARLO
Guthrie whose

third

album was the "Alice's Restaurant" soundtrack
 ALTA
Ski resort known for its super-cheap "Ski after

3

" tickets
 ANAIS
Nin whose

seventh

diary volume was published posthumously
 MINUTE

7

-___ Abs (program featured in "There's Something About Mary")
 MARAT SAFIN

First

Russian to be inducted in the International Tennis Hall of Fame
 FINGER
Large foam item that might say "We're #

1

!"
 MYLO
"___ Xyloto" (Coldplay album whose

tenth

song is a collaboration with Rihanna)
 ONCE
"___ Upon a Time in Hollywood" (movie that Brad Pitt and Leonardo DiCaprio each earned $

10

MM for)
 SOLTI

Eighth

director of the Chicago Symphony Orchestra
 LIOTTA
Actor Ray who narrated AMC's  

8

-part series "The Making of the Mob: New York"
 

U

SSR
"Back in the ___" (song released in the

sixth

year after the Cuban Missile Crisis)
 ERES TU
Mocedades hit written during the group's "

6

históricos" phase
 INN
The Elephant in Shakespeare's "

Twelfth

Night," e.g.
 UKRAINE
Country where Christmas Eve dinner is traditionally

12

courses
 NADAL
Tennis great known for his powerful

second

serve
 IDINA
Menzel of "Frozen

2

"
 ODE
"___ to Joy" (text for Beethoven's

ninth

symphony)
 RIDE
Twenty One Pilots song that was #

9

on the 2016 year-end Mainstream Top 40 chart
 MOR
It has the

fifth

-largest economy in Africa: Abbr.
 OMAR
Congresswoman Ilhan (D-MN-

5

)
 SCRIABIN
Russian composer whose

fourth

sonata was his shortest
 ACCRA
African capital with a population of over

4

million
 WOO
Director John of the "Mission: Impossible" movie featuring an

eleventh

-hour prevention of a pandemic
 WEPT
"Jesus ___" (Mavis Staples song based on the shortest verse in the Bible, in John

11

)
2020 Red Herring Clues:
D

ATE

12

/

12

/

12

, e.g.
NERO
Emperor for whom

11

+

11

+

11

=XXXIII
EXTRA
Like a

10

th inning, a

10

th month of pregnancy, or a

10

th hole on a pitch-and-putt course
ERR
Dial

9

–

9

–

9

for an emergency in London, Ontario, as opposed to London, England, say
HAND

8

–

8

–

8

-J-K, e.g.
TIE

7

–

7

in the

7

th, say